As I was eating pre-cut mangos straight out of the package today, it occurred to me that my life with the husband and kids in suburbia-land isn't looking all that different than it did when I was in college. Sure, I have three new roommates and two are minors, but, then again, in college I changed roommates every year, and we were minors half the time. And then there's all this stuff that seems frighteningly the same:
I eat food straight out of containers.
There's laundry. Everywhere.
The sink is full of dirty dishes.
No one's unloaded the dishwasher.
I didn't make my bed.
I'm still wearing the same underwear I slept in.
I woke up with a headache (although not from drinking).
A caffeinated beverage was my only breakfast.
I went out once today for class (true, it was to drop the kids of for their class, but work with me here), came home, and sat around the house reading stuff for the rest of the day.
I'm not wearing makeup.
I'm not good at applying makeup.
I don't have my own room.
I share a place with three other people.
My roommates' shit is all over the place, and I'm refusing to pick it up.
I can't concentrate because my roommates' shit is all over the place and I'm refusing to pick it up.
I just finished a big project, and I'm absolutely convinced it'll get failing marks, despite all my previous successes which point to the contrary.
My roommates are totally distracting people who always manage to keep me from doing my real work and con me into screwing around, watching weird videos, or going out.
I'm always  having to rush off to class (school pick-up) because I've pushed leaving the house until the last minute. Again.
I'm driving a 10-year-old car.
I wish my mom would come over and help me clean out my closet. And maybe take me shopping.
Twenty-five years later and life is still pretty much the same. I'm not sure whether to laugh, cry, or go try to buy beer with the hope that I'll get carded.
Because really, that's the only thing that's definitely changed.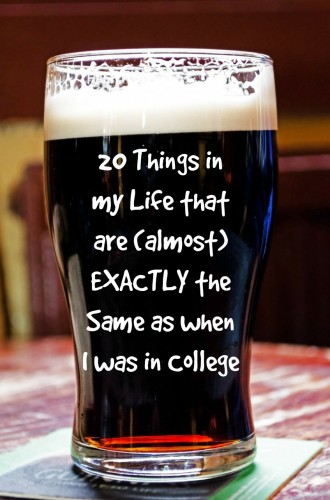 BTW, if you thought this was adorably funny, you should check out Why are the Blogging Betties So Damn Dirty. It'll be right up your alley.