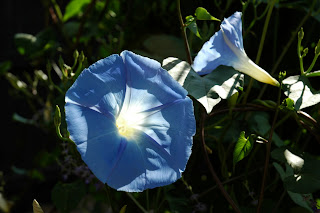 Photo by Tammy Soong
Winter is apparently coming tomorrow, and even though I'll be more than happy to say goodbye to allergy season, I'll be sad to see my morning glories bite the dust. Every day I walk downstairs, look outside, and smile when I see the bright, blue flowers. And then later, sometime in the afternoon, I'll suddenly look over and they'll all be closed up and hiding. Crazy plants — they're like little props from Alice in Wonderland.
We got the Halloween decorations down yesterday, and my house is now awash in plastic in the form of bones, stones, and sparkling pumpkins (it's an eclectic mix — no one can decide if we're "cute" or "scary"). So I guess it's really time to suck it up and admit we're into fall. Which means I need to go shopping for clothes. And it's officially the holidays. And there will be no more sunny evenings.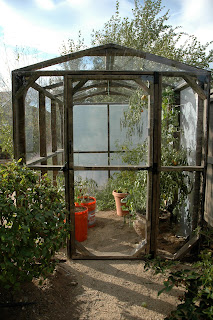 Photo byTammy Soong
But it also means my husband's been given a deadline to finish his greenhouse. And a deadline is sometimes the only thing that makes him (me) get anything done. So this weekend, he finally got his homemade, self-designed greenhouse up and running. Minus half the plexiglass, thanks to Home Depot shorting us and then claiming they didn't (thanks Home Depot!). He's just in time to put our last tomatoes in so they can ripen up.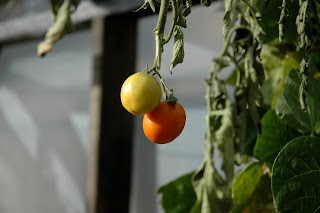 Photo by Tammy Soong
So goodbye morning glories, hello winter veggies. Glad someone in my family doesn't kill every green thing he looks at.