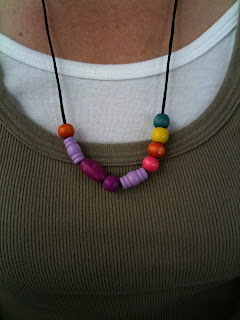 Photo by PartlySunny
This is my latest "happy" thing to do — a meme through Unknown Mami called "Sundays In My City." Fairly self-explanatory. I like this because even though I'm capable of taking pretty nice photos, I've decided not to put any artsy-fartsy, perfectionist pressure on myself when it comes to this. In fact, both this week and last week were shot on my iPhone.
So feast your eyes on my self-portrait (well, not exactly since you can only see my chest) to spotlight the lovely necklace my 7-year-old daughter made and is determined to see me wear. All over. Even to the grocery store today. Which is why, in hindsight, some random mother, whom I didn't even know, may have given me a hearty, "Hi! How's it going?" as though we hadn't seen each other in weeks.
So there you have it. Sunday in Reno. Hope yours is a good one.