The kids are in the middle of evil government testing week. This is the way to determine if your school is "good" because everyone knows that sitting kids down and having them fill in bubbles is the best measure of their intelligence. Just ask Einstein. Or Leonardo da Vinci. Or Legolas (apparently Orlando Bloom, the guy who played him, has dyslexia — I'm not going to speculate about what Elves have to go through as far as education).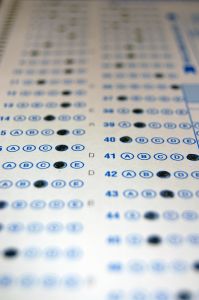 Anyway, I always think it's funny when they send home notices to make sure we "have the kids get a good night's sleep and eat a healthy breakfast." One teacher even asked that we not watch TV. I'm not laughing because I think these are bad ideas — I'm just wondering why we're only supposed to do them for one week out of the year.
Apparently this morning at school, Elfie got "second breakfast" (I know — two Lord of the Rings references in one post) so that everyone was well-fed for the test. Again, not sure whether to laugh or cry.
I understand the school wanting to make sure the kids do the absolute best they can on the tests — they don't have a choice. But it makes me want to scream that we put teachers up to this. That instead of treating them like professionals whose craft should be respected, we act like they're unskilled laborers who've previously been busted for using on the job, so now we need to have them pee in a cup every 6 months.
I don't have all the answers to fix our failing school system. But I do know that measuring a child's progress, blaming it on the teacher, cutting the school's funding, and creating a rigorous teach-to-the-test environment isn't helping anyone. Not when there are a million differences between kids, their learning styles, their socio-economic situations, and their school environments.
And certainly not if we want to find and encourage that next generation of Einsteins, da Vincis, and Legolases.