When I was in 8th grade, I — try to contain yourselves — tried out for cheerleading.
In our school, this was a rather humiliating process — one where you had to perform in front of the entire school and then get voted to be on the squad. I ended up just edging out the new girl for second-to-last place. I was helped, I'm sure, by the huge bouquet of balloons that my mother had delivered to me in front of everyone during the tryout (do not ask…).
Anyway, I was bummed but not devastated by the loss. I knew, deep down, that I wasn't cheerleader material. I was "smart girl" material. And you know teenagers. They can only handle so many boxes at one time.
But the one thing in my life that I've always felt confident about, the one thing that's very rarely been a source of insecurity for me, is writing. I could always write. My grandfather was a journalist. My grandmother wrote a memoir. It's in my DNA.
So today, when I got an email from BlogHer that I hadn't been chosen as one of their 2013 Voices of the Year, I was bummed. And — not to be a completely arrogant twot — kind of pissed. This is what I'm good at (ends sentence with preposition). This is my strength. If writing were a cage fight, I'd be dressed like a Roman gladiator and wielding a big-ass flail.
My only consolation is that the list of losers is bursting with people I love to read (although hardly ever get to). After seeing who else was carried out dead on a stretcher, I feel a bit better.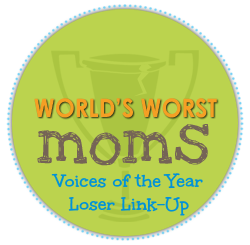 So here's my idea. If you're a VOTY loooooser, link up the post or posts you submitted that didn't make the cut (I've never done one of these, so we'll see how it goes!).
And call me crazy, but I have a suspicion I won't be the only gladiator with a flail.