When I think of going outside my comfort zone, things like sky diving, pole dancing, and perhaps lip piercing come to mind. But first on my list? Definitely not . . . talking.
Let me clarify. I've always talked a lot. Whether or not I've ever had anything valuable to say is up for debate, but there've always been plenty of words coming out of my mouth. Or, now, my fingers. As such, you'd think I'd feel pretty secure about shooting off my mouth in public. But not so much.
I'm the type of person who goes to a party and then replays practically every conversation I had, wondering if I totally offended someone. Because, let's face it — I probably did.
So there's the paradox — lots of talking with a wild case of "trouble acting normal when she's nervous." And yet (and yet) it hasn't stopped me from starting up my latest adventure. It hasn't made me say, "Hey stupid, maybe you shouldn't jump into the uncomfort end of the pool…"
But I have, and today we're officially launching The Blogging Betties Podcast. My friends, Poppy Marler (Facing 40) and Vanita Cyril (The Strategic Mama), and I will be chatting it up every week on what's essentially a radio show that you can download from iTunes (or Stitcher if you're one of those Android people). We'll talk to bloggers who are "doing it right," and we'll share all the great tricks of the trade that we've come across in our 12 years of stomping around the blogosphere.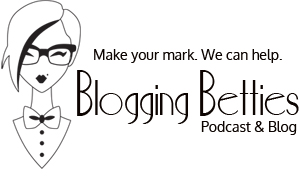 We've been working our butts off on this project — the amount of stuff we've had to learn and set up has frankly been staggering (we'll share all that too). So we'd really, really appreciate everybody's support. Even if you just want to come and laugh at us, I'm cool with that. We're fairly ridiculous at times.
But we're also pretty damn helpful. And to start, we have three shows already in the hopper.
Episode 1: Meet the Blogging Betties | Tips, Tricks, and Tools for your Blog
Episode 2: Grabbing Life by the Blogs with JC Little of The Animated Woman
Episode 3: Killing it with Social Media — an Interview with John Paul Aguiar of the Money Dummy Blog
So please share us with your peeps. Tweet us. Pin us. And if you could, rate and review us on iTunes. It helps a TON. A "ton of bricks and a ton of feathers" ton (please tell me some of you other nerds get this joke).
New shows every Tuesday. Sign up by email to get reminders, or subscribe in iTunes or Stitcher. And thanks again for your support!