I'm like a little kid on Christmas today. Well, maybe like a little kid on Christmas who's totally excited about opening presents but also has to get dressed and go sit through church. And then have her presents slowly doled out to her by uptight relatives who make her come and sit down for breakfast in between. And then write thank you cards before she can play…
As you may have noticed, my blog's design has been made over. That's the Christmas part. The church/breakfast part comes from the laundry/children/errands that keep dragging me away from getting it completely up and running. Fortunately, I'm not alone in this venture.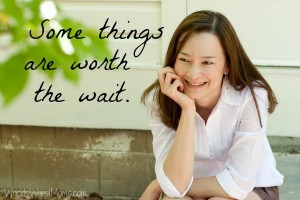 If you've been with me for awhile, you know this is the third look for World's Worst Moms. The original was a Blogger template thrown together by newbie me. Then I had a designer move me to WordPress and fancy me up. The blog was really cute, but the template always just bugged the bejesus out of me, and I never felt "comfortable."
Enter Ms. Vanita Cyril of The Strategic Mama.
Alison Lee, from Writing,Wishing, shared Vanita's post, Bounce Rate Defined Series: Wrap Your Blog In Honey, and I was hooked. We became fast friends, in part because I think she's brilliant and she thinks I'm hysterical. She knows so much about weird SEO, google-y stuff that it's a little creepy.
After about a billion conversations, we decided to redo me. In three months, my blog traffic has doubled, and that's after me basically not even doing anything but making a few changes based on her seo advice (it frankly makes me feel a little guilty). Now we're rolling out the new blog design, and I have to say, it's so light and happy that it makes me smile inside whenever it pops up on the screen.
I honestly can't say enough about Vanita. I think what makes her different from the other designers I've met and worked with is that she really digs in and figures out what your goals are. She evaluates your blog and your traffic — she doesn't just ask what you think you need — and then she builds your design. My husband says she's the best decision I've ever made. Based on the length of our email threads and how much I bug her, you'd have to ask her if she feels the same way…
Anyway, Vanita is taking on new clients. So if you think this is your time to move, then I'd grab on. She's got a few deals going for a limited time (20-25% off).
Custom Blog Design
For Entrepreneurs: Leverage Your Blog and Build Your Online Empire.
For BlogHer Bloggers: Get Smart and Sexy for BlogHer '14.
For Small Businesses: Build Your Web Presence and Increase Your Revenue.
And then there's always Small Business and Basic Blogger Design.
Anyway, hope you like the new World's Worst Moms as much as I do. And give Vanita a buzz if you need help. I'm an affiliate of hers too, so I get a cut if you become one of her clients. I'm telling you, this woman is good. There's no way I'm not hitching my wagon to her train.