Last week, I picked a day and made a list of everything I did. One good day. Keep in mind that many of my days consist of avoiding a shower, sitting on the couch, and reading articles suggested by Digg.
Making a list of everything you do can make you have a myriad of feelings, depending on your expectations. My intention with all of this was to try and figure out how in the world everything in the house gets done. Because I seriously don't know how we all do it.
Anyway, I asked you guys for samples of your days, so here's another "day in the life" of a typical mom. Diary of a Corporate Wife is a blogger, freelance writer, and SAHM. Try not to be intimidated. I seriously haven't met someone with this much energy in a long time. I've never asked her, but I'm wondering if she's actually on crack. Or some special sauce that we all need to get our hands on. But I'll shut up now. Here's Diary of a Corporate Wife…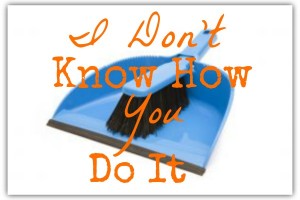 Here I am, sharing a weekday with part-time writing gig, PTA, mom-ing, wife-ing, etc. I too am a lucky stay at home parent and homemaker…
6:15 a.m. Alarm goes, off, hit snooze until 6:38, or read tax policy email. (research for new writing gig)
6:38. Out of bed, take Synthroid (every day or else I'll die, and early enough so that I can have coffee by 7:15 or else I'll die), brush teeth, etc.
6:45. Make coffee, make lunches for daughter, son, and husband. Pack breakfast for husband, too. Set up breakfast for daughter and son. Set up backpacks for kids, filled with lunches, checking that they set up their homework, etc.
7:05. Say bye to husband.
7:10. Make sure both kids are awake and eating. Drink coffee.
7:30 Make sure both kids are done eating, dressing, brushing teeth and then playing till time to leave for school.
7:35 Exercise for 25 minutes or add in any last minute content to daily writing gig.
7:55 Tell kids to get selves ready to get in car as I listen to Jillian Michaels tell me to stretch (end of exercise video)
8:00 Leave house for school with kids
8:16 Leave school for grocery store without kids. (Or go for a run if not too hot outside and I didn't already exercise and I have groceries)
9:00 Return to house with groceries. Unload groceries, eat breakfast, drink more coffee. (Or, return from run, eat breakfast, more coffee.)
9:20 Check email, news sites, Facebook, twitter, plus PTA sites/email.
9:45 Tidy up house, shower.
10:30 Head to school for any PTA duties (currently tallying Yearbook orders and RSVPs for dinner/general PTA meeting next week) or run any random errands for PTA or for family
11:15 Return home, read about tax policy, start drafting next writing assignment. Eat something for lunch.
1:30 Head to school to tally more yearbook orders and RSVPs till about 2:30
2:35 Take kids home.
2:50-3:45 Arrive at home, review kids' homework planners, review completed homework
(if Monday or Wednesday, take kids to Gymnastics or listen to their piano lessons at our house, respectively, from 3:00 to 4:30)
3:45-5:00 write some more while kids play
5:00 to 5:45ish make dinner
5:45 husband arrives home
5:45ish eat with husband and kids
6:15 do dishes and tidy up house while kids shower and then play with husband.
7:00-8:00 everybody reads in the living room
8:00 kids in bed/reading, husband and I on couch reading or chatting, me maybe writing, him maybe working on laptop. Or we're both looking online on Zillow or Trulia or Realtor.com (we're moving soon)
9:00 husband and I have a glass of wine (or two).
10:30 ish Bed.
Looks so pedestrian when I write it out. Ah well. Pedestrian = lucky.
You can follow Diary of a Corporate Mom on Facebook and Twitter. And if you want to tell us how one of YOUR days went, then drop me an email at WorldsWorstMoms@gmail.com.
One last thing — some gal pals and I are starting a podcasting show called Blogging Betties. We'll be talking about tips, tricks, and tools to make your blog oh so much betterer. And we'll be interviewing everyone's fave bloggers to hear how they got to where they are. Make sure you're on our launch email list so you'll be in on all the action.