Yesterday, I found out a friend of mine from college died. She was on a 5-mile run, collapsed right before the finish, and never woke up.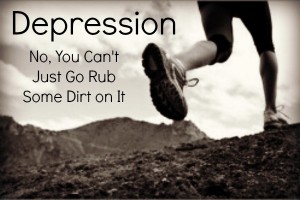 I feel terrible for her family. For her husband and three sons. For her parents. For her friends who are "her people" and will feel this the most. I wasn't one of those people anymore. We were the mutual bridesmaids who exchanged cards on Christmas and hadn't seen each other in years. In some ways, it feels wrong to claim her as a loss for any other reason than pure self-centeredness. But then, I suppose grief is all about selfishness. Our pain isn't really for the person who dies. It's all about how we feel because he or she isn't around anymore.
This is the part of the post where I'm supposed to wax nostalgic about learning to appreciate every moment. And needing to live each day like it's our last. And remembering to not sweat the small stuff. Then I'm supposed to end it all with a very inspiring line that ties in running and life. I'm sure I could figure something out…
But the fact is, last week, before all of this happened, I was in a deep depression. Like, deep, deep. It was the kind of dip where you don't even cry because you don't feel anything at all. You just want to watch movies or bad TV because then you can forget you're you for a little while.
Put it this way — I didn't even have the energy to write about how bad I felt.
If you've ever been in that place, you know that no amount of "positive talk" or "walks in the sunshine" or "life altering news about your friend dying" will shake you out of the dark. It's a physical condition. In my case, I can actually feel my body sucking the life out of me.
So it didn't take a sudden death to make me remember that life can change in a heartbeat. That I'm lucky to have what I have. That I could lose everything in the next minute. Trust me — I've got that lesson down pat.
So why am I even bothering to bring this up? I guess because now that I'm not in the deep, dark place, I don't want people to think that my friend dying is what "snapped" me out of it. I want people to understand that depression isn't something you can just think or wish your way out of. It's not something that will go away if you just "look on the bright side" or write three things you're grateful for in a journal every night.
The fact is that sometimes — most of the time — my body doesn't do what I want it to do. I feel annoyingly fatigued. I have the unenviable option of choosing pain over pain-relief that in some ways makes me feel worse. And all of that tends to beat me down.
And sometimes the only way I get through those dark days is to hang on by my fingernails and remember that this too shall pass. That I've been there before and that I don't always feel "this bad." That I'm in a marathon, and this mile of the course just happens to be up a hill. And through the mud. And infested with mosquitos.
See. Told you I get a running metaphor in here somewhere.