I'm generally not a fan of gender specific toys. The fact that we have Legos "just for girls" pretty much makes me want to smack somebody. That said, since there's apparently an entire segment of society that believes the only way girls can do anything "buildy" is if a toy is "for them," I'm happy GoldieBlox came along.
If you haven't heard of GoldieBlox (and who hasn't at this point, thanks to the whole Super Bowl ad blah blah blah), it's a building set that teaches basic engineering concepts. But they hook the kids (girls) by telling a little story, posing a problem, and then solving it by getting them to create a "machine."
For Christmas, my 9-year-old, Elfie, got a set that built a parade float (among other things), and although I felt good about the concept, I was a little bummed that there was still a pageant involved in the story (because we always have to have a tiara involved somewhere, right?). But now GoldieBlox has come out with a new set, and it's pretty awesome.
Enter The Dunk Tank. In this story, Goldie's dog, Nacho, needs a bath, so she constructs a dunk tank to con him into the water.
Elfie had much more fun with this than the parade float. You chuck a ball at a target and drop animals into a glass. And incidentally, even her 11-year-old brother had fun with it.
As she was constructing it, I started realizing she really didn't understand the concept of how it all worked until she put it together. I think as an adult, you forget exactly how you learned about hinges and levers as a kid. Funny part is, she ended up doing her science project on pulleys, so it was really cool to see her interest in engineering take off all at once.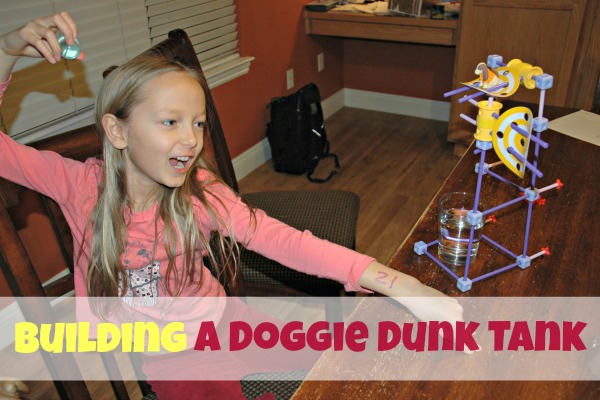 The Dunk Tank has just come out, so until the end of March, you can only get it at GoldieBlox.com or Target ($19.99). It's recommended for ages 4-9, but I can tell you that there's definitely a bit of a learning curve associated with it. Elfie has always has trouble with fine motor skill stuff, so she ended up getting kind of frustrated. But hey, she pushed through and got it together. And I think it's so valuable to be able to look at a model, figure out how the pieces fit together, and copy it exactly. I mean, have you ever seen the Amazing Race?
Because who cares about college, right? You've really only failed as a parent if you let your kids out of the house without properly preparing them for a reality TV show…
Anyway, I'll leave you with some Vines that show exactly how psycho my kid really is. Happy building!
GoldieBlox was nice enough to send us a Dunk Tank to test out so we could do this review for you guys. But these are our opinions, not theirs.
And hey, are you on the Blogging Betties email list yet? Sign up and you'll be the first to know when I launch myself into podcast land. You really don't want to miss it. We already have some great bloggers lined up for the show…