If you have a child under the age of nine, you've no doubt come across The Rainbow Fairy books. They're basically a collection of short chapter books about two girls who save the world by helping various groups of fairies find their special, magical somethings which have always been stolen by the evil Jack Frost and his goblins. Each group has a theme — colors, pets, party paraphernalia, sea creatures (you get the idea). And after a while, it's like watching an episode of Scooby Doo ("We could've gotten away with freezing the world and taking over Fairyland if it weren't for you meddling kids…").
I don't know about the rest of you, but my home is actually run by a cohort of House Fairies*. No joke. They come in the middle of the night or when no one's looking, and they do almost every job that people attribute to me. I'm sure some of them visit your place too…
Crappy the Craptastic Toilet Fairy
Crappy cleans up explosive or sticky poops that leave remnants the toilet won't flush away but are magically invisible to everyone but me. She travels with a toilet brush and chisel, just in case she screws up and misses a bit that's turned to shellac overnight. You may also have met her sisters, Pluggy the Plunger Fairy and Roley the Toilet Paper Changing Fairy.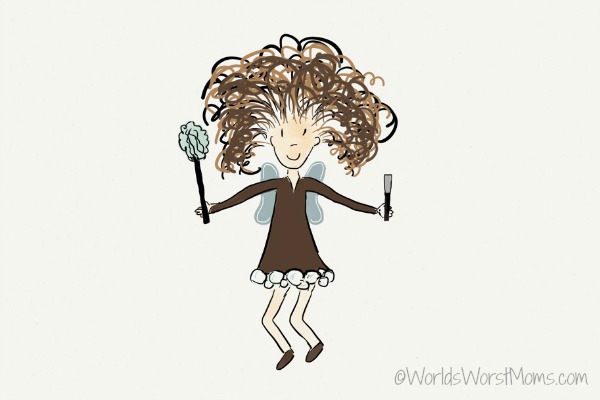 Sudsy the Laundry Fairy
Sudsy has a huge job. Not only does she have to move everybody's dirty clothes to the laundry room and make it look like I'm in the process of busting my ass washing, drying and folding it all — she also has to get the stuff back in the drawers without anyone noticing. Unfortunately, it's such a big job that she has fallen behind on occasion. I've found it's just best to play off the lapses with sarcasm:  "Well, yeah, sorry your pants aren't clean. What do you think, the Laundry Fairy just comes and takes care of this stuff?" Close calls people. Close calls…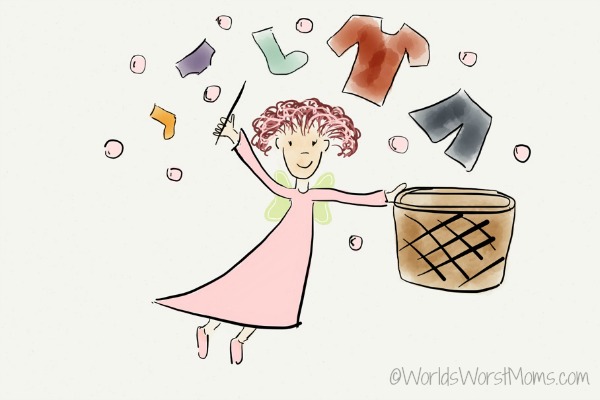 Sudsy does have help from her sister, Linty the Lint Filter Fairy. And, of course, her biggest ally…
Junky the Clutter Fairy
Junky flits around the house and puts away everyone's crap (including dirty clothes left on the floor), which becomes magically invisible to everyone but me after it's set down. She spends a good amount of time on stuff that's disappeared in the car. And she has the magical ability to find lost items that no one else can locate (since she's put everything away in the first place). Junky's magic is strong, but it's rarely powerful enough to overcome the forces of Captain Pile-Up and his Stickies (aka, the husband and kids).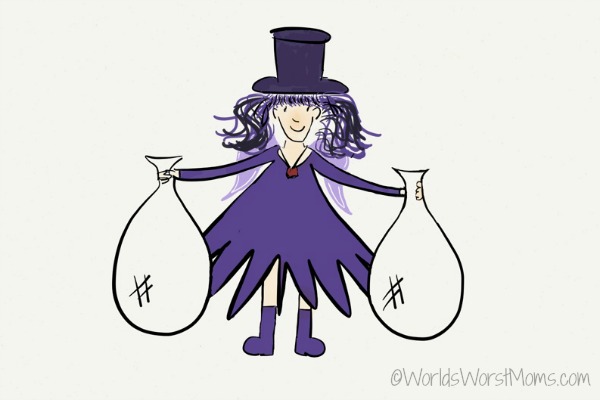 Spritzy the Counter Wiper Fairy
Spritzy floats through the house and makes every countertop sparkle. Like Crappy and Junky, she can see things that have become magically invisible to everyone else, like breadcrumbs on tables, coffee on kitchen counters, and toothpaste in bathroom sinks.
As a team, sometimes Junky and Spritzy can defeat The Captain and his Stickies. But it's always short-lived, especially since the the Stickies are somehow capable of creating a crumbly, smudgy mess on a table with something as innocuous as plain baby carrots.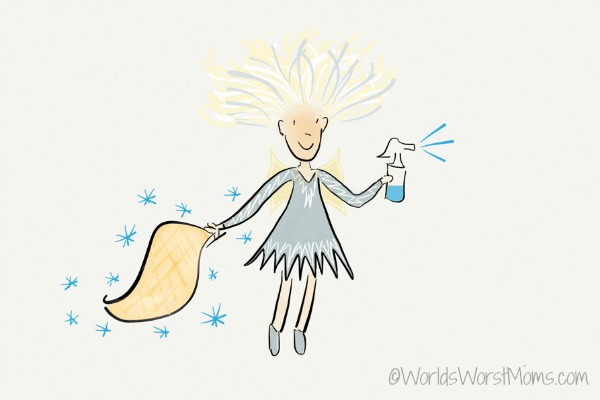 Clicky the Electrical Switch Fairy
And finally, there's Clicky, who cases the house and turns off lights and various electrical devices. You may catch a glimpse of her flying across the unwatched, solid blue screen of a television set and diving for the off button with the hopes of saving some poor polar bear from drowning…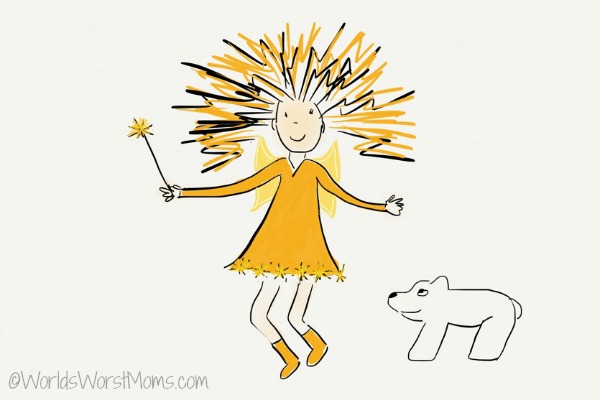 So now you know my secret. And the secret of homemakers across the land. We really do just sit around eating bonbons all day. And when we say to our husbands and kids, "Who do you think takes care of this? Magical fairies?" Well, we're really laughing our asses off on the inside.
*Fast, disclaimer-guy voice: "Any resemblance to Rainbow Fairies living or dead is purely coincidental, even though they were referenced in the beginning of this post and the drawings look remarkably like them. Ahem."
Like this post? For the love of Fairies, subscribe by email or follow me on Twitter, Facebook, and Google+. It'll be swell!