This is the continuation of last week's story when Eric got into some serious trouble after getting drunk with Simon.
Want to get caught up? Start here. And if you want a list of the whole torrid affair, go here.
*******
"Your mother didn't expect you home tonight, did she?" Frangelica glanced over at Eric from the bar. He was sitting in a chair with his elbows on his knees, hunched over like he was about to puke on the floor between his shoes. The bartender handed Frangelica a plastic bag filled with ice and a white bar towel. She whispered "Thanks Ronny," walked over to Eric, and held them out in front of him.
He looked up. "Thanks," he said, taking the bag and towel. "No. My mother doesn't care where I am or what I'm doing until after I've done it. Then she gets pissed off thinking about it and worries herself into a panic attack." Eric wrapped the towel around the ice, touched it to his forehead, and flinched. He pulled the bundle back to see a mottled, quarter-sized blood stain.
"Whoa. You talked to somebody about those mommy issues?" Frangelica sauntered back over to the bar and slid onto a stool. Then she reached back and helped herself to a toothpick and a couple of green olives.
"My mother is. . . complicated." He rested his elbows on his thighs, gingerly pressed the towel back to his forehead, and stared down at the floor. The vodka was still making his head feel heavy, and every time he blinked, the distressed-wood floor boards seemed even more warped and like they'd moved to a different spot.
He started counting how many times he'd blinked. Twenty-seven. Twenty-eight. He'd never been in an empty bar before. It hadn't ever occurred to him that a room like this could be so quiet that you could hear the wall clock ticking.
"So when you found me, was he, I mean did he. . ."
"Rape you?"
"Well, um, if you want to use that word. . . I guess. But was he? Was he doing it?"
"No."
"Okay, that's what I thought. I mean, this whole night has kind of been a big blur, so I just wanted to make sure I wasn't remembering things that didn't happen. You know, blowing stuff out of proportion."
She leaned toward him, laced her fingers together, and fixed her eyes on his. "Eric honey. The man slammed your head into a wall, felt you up, and tried to fuck you without your permission. You're not blowing anything out of proportion."
"Yeah. Right, right. Right." He looked at the spot on the towel and brushed over it with the tip of his index finger.
"Do you want to call the police?"
He snorted. "And tell them what? That I hung out with a guy all night long, got totally shit-faced, and left the bar with him? And then when I wouldn't go home with him, he got pissed and tried to screw me in the alley, and I was rescued by three drag queens? And, oh, by the way, his name's Simon — sorry, no last name — and he's staying in a hotel somewhere in the city. I'm sure they'll get right on that." He buried his face in the towel and coughed a few times. Then he took in a deep breath and held it. Despite his best efforts, he couldn't exhale smoothly. The air chattered and stammered out of his lungs and then immediately made him feel like was starving for oxygen.
Frangelica slipped off her stool and clicked across the floor, her heels making surprisingly little sound considering the towering edifice they were supporting. As she sat, Eric could here the sound of sequins dragging across the wooden chair next to him. A hand rested on his back.
"Look, it's been a really long night. Why don't you just come home with me."
"That's how I got into this mess in the first place." He just needed to slow down. Just breath. Breath.
Frangelica held up a manicured hand with long, fuchsia nails and raised an eyebrow. "No offense, but defenseless and pathetic is not my type."
"Ouch."
"Hey. At least I didn't say homeless, jobless, and depressed."
"Okaaaay. You just did."
"Well, it doesn't matter. You're not going to remember anything tomorrow."
"I wish."
"And any memories you do have will be of pure fabulousness. Of three super queens saving your ass. Literally."
"And figuratively."
"True. But this is one of the few times I've been able to say, 'Literally saved his ass' and had it be correct."
"There've been other times when you've been able to do that?"
"Well, my girls and I have been prowling these streets for ten years. You can't be this fierce and just let it go to waste."
"So, when you were saving my ass, did you by any chance do some kicking of anyone's ass? I mean, what happened to Simon? Did he just get away?"
Frangelica shifted in her seat. "Well, sweet baby, I'd love to tell you that as we speak, my girls are making his testicles into a pretty little memento for you to hang from your rearview mirror. But I'm afraid that ain't the story. That slimy S.O.B. had the chance to get his pants up and buckled while he was tellin' us some hoo ha about the two of you havin' a private, romantic moment."
"In the alley."
"Yes. With the garbage. It was just like heaven, I'm sure. But the fact that you were passed out in a pile of trash didn't exactly sit well with me. And then when I realized you were my pretty white boy, well, I realized there was no way that you. . . and well. . . he. . . " Frangelica paused. "Well, I don't like to make assumptions based on appearances, but let's just say that I didn't think he was your type."
"To be fair, people become more attractive when you're drinking. And I had been drinking. A lot."
"To be fair, the only way he could get into your pants was to have you drink SO much that you passed out in a pile of garbage."
"After he hit me on the head."
"There was that too."
Eric sighed. It was a long sigh that made his shoulders relax and reminded him how tired he was.
Frangelica put her hand under his elbow and pulled him up. "Come on, let's get going. Ronny needs to close up for real this time. I just live a few blocks from here."
"So, did you get to kick Simon's ass? At least a little bit?"
"Well, honey, let's just say that these shoes are terrible for running after people. But when you throw 'em, they fly pretty straight."
Eric put his arm around Frangelica's waist and leaned into her. She smiled, wrapped her arm around his shoulder, and rubbed it. "You're going to love my couch. It's just fabulous. Of course you may have to fight Bertrum for it. Sometimes he sleeps out there if I snore.
Read Part 16: The Ties That Bind
********
This week's prompt: May is the month to celebrating motherhood. Start this week's post with the following: "Your mother…."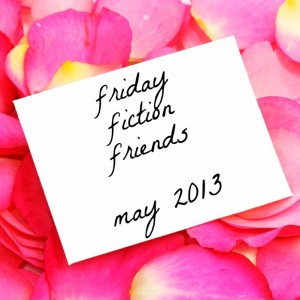 And please check out my writing pals: