Some days, I'm a good mom. I'm excellent, actually. Even though I feel like I'm walking through mud and the last thing I want to do is have a "teachable moment" with the children, I somehow rally and become this Gandhi-esque creature who I barely recognize. It's freaky, really. Like standing outside yourself and expecting to see June Cleaver in your kitchen.
Yesterday, I was home alone with Newt. He's 10 and has very little interest in cooking. Fortunately, if I ever completely lost my marbles and hopped a plane to Paris, his little sister would be able to keep them alive with a steady stream of nachos, waffles, and salad.
Not that I can fault the boy. My husband is the cook in our house. Newt and I fall more into the "get a spoonful of peanut butter out of the jar" category.
Anyway, I've decided this is the summer of "Everything you need to know to live on your own." So when Newt said he wanted macaroni and cheese, I felt I was required to teach him how to make it (even though I kind of wanted to lay down and die).
He did incredibly well. All I did was strain the noodles (because I didn't want him to get third degree burns). Later, he and his dad did the dishes.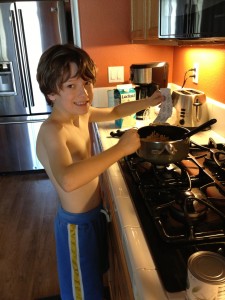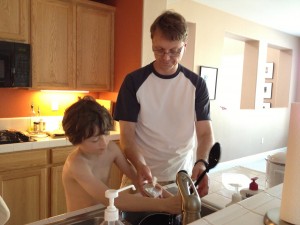 But like I said — some days I'm a good mom. Today, the kids basically watched a movie and played Wii. I could've taken them to their martial arts class, but I didn't. And now it's dinnertime, and they just ate a bunch of chips.
But that's just how it goes. Some days, Gandhi's around to make macaroni. Some days, he's hopped a plane to Paris with a spoonful of peanut butter.