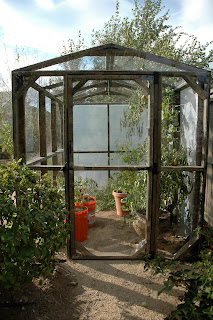 The "Cute Greenhouse"
My husband, Tenzin, is an E.R. doctor who'd rather be a gardner. Last year he wanted to put up a greenhouse, so we went to Costco and checked one out. Now I'm in no way dissing Costco — it's provided us with half the stuff in our house — but I wasn't exactly jazzed about their greenhouse. We live in Reno where the wind has been known to pick up glass patio tables and shatter them on the other side of the yard. And this Costco greenhouse seemed, well, ready for takeoff. Not to mention, it didn't exactly pass my "quaint and adorable outdoor accessory" test. So I asked Tenzin, "Can't you just build me one?"
This is when all of the guys who aren't married to me get to shake their heads and mutter "Poor bastard" under their breath in some sort of fraternal existential bonding moment with my husband (and then thank who or whatever they happen to thank that they're not married to me). But truth be told, my annoying personality is what's led to Tenzin finding his bliss (See how I did that? This is really all about me.).
Tenzin built a very cute greenhouse out back. Then he made it a little less cute when he tweaked the hell out of it to make it super energy efficient. And then he put together a passive-solar heat-sink system that warmed up during the day and kept everything nice and toasty at night (even here, where it dips down to less than 20 degrees).
So now, months later and way before anyone thought was humanly possible (okay, I'm kind of exaggerating) we have this: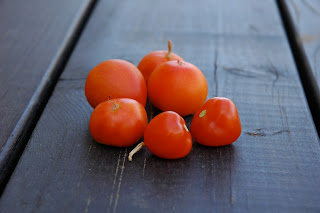 Yes, we started harvesting tomatoes in April. And he has HUGE plants to give away to friends (hint, hint). Elfie, our daughter, had to name them all because, well, that's just what she does (we visited "Tiny" and "Tippy" at Grandma and Grandpa's the other day).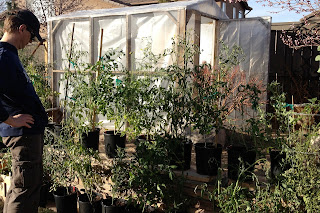 Doing his best Benny Hill
Tenzin now has a redone, once-again-cute design for his greenhouse. He's even putting one up at my aunt's house (prototype #1). Whether or not this will ever grow into something that could get him completely out of the doctor biz is hard to say. But who knows, maybe I've married the Steve Jobs of greenhouses. All I know is that when he's doing it, he's happier than I've seen him in years.
And that's just priceless.
*All photos by Partly Sunny, as if I had to say that.