Well, after three-and-a-half-plus months, I finally did it. I got my hair cut.
I was starting to think I was going to end up like Crystal Gale. Or one of those Oprah makeovers where they find the woman who's also wearing huge glasses, circa 1970, and light blue mom jeans.
I wasn't being a complete schlep about not getting my hair done for so long. I had an ulterior motive. But truth be told, I didn't mind ditching the couple hours it took every six weeks to get highlights. Not to mention paying to get highlights. But the fact is, I was starting to look a little scruffy.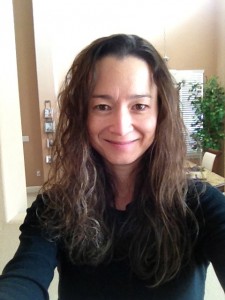 No, the reason I was avoiding the salon was because the last person who'd done my hair was my cousin, Logan. He died in September, right around the time I should've gotten my hair done. In fact, I was going to call him and ask if he could meet me on Sunday, but I didn't want to bother him. Didn't want to ruin his weekend. As it turned out, that might have kept him alive. He might have forgone his trip to the lake, stayed off the boat, and never drowned.
Truly, I'm not one of those people who does the "What if" thing. That would be like trying to control the universe by making the correct butterfly in Guatemala not flap its wings. So it's not that I'm feeling any misplaced sense of guilt.
But I was feeling a sense of loss when it came to my hair. My hair was the last thing Logan left his mark on for me. When he did my hair that last time in August, we hung out for hours. We talked about politics and music and his future. He took me over to see his fairly disgusting apartment that was the same type of place I'd lived in 20 years ago (how the hell I'd tolerated that, I have no idea).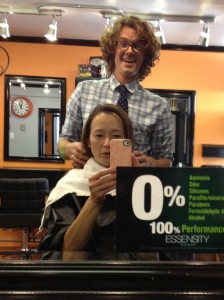 I don't exactly know how to describe it but. . . it was almost like we didn't want our time to end. Maybe somehow, we just kind of. . . knew.
So on Thursday, Madeline, who was Logan's friend and mentor, cut and colored my hair. And it was all okay. But today, I'm sad. That's sometimes how it goes with me — stuff tends to hit in slow motion. Or, at least, that's apparently when I decide to let it all come down. It's like my one and only way of controlling anything in the universe.
At least that's what I like to tell myself.