So here's the current status:
I'm officially a Christmas casualty. After, I'm assuming, intense gift-wrapping sessions and several nights of marathon dishwashing, I've done something really bad to my back.
I can't lift my arm over my head, so I haven't taken a shower in four days. I'll just let everyone use their own imaginations and refrain from describing the rest of that.
I'm on so much pain medication that it's taking me about three days to write a post. And it's kind of driving me crazy.
The kids have been living on crackers, cereal, and cheese. Not that there's anything wrong with that.
It's a good thing we've been a fairly media-light family because the amount of Wii, TV, iPhone apps, and computer games that the kids have been exposed to over the last three days have more than made up for the horrible deprivation they've experienced up to this point.
I'm supposed to go to a party (kid-friendly) tonight, and even thought I slept until 10 a.m., I'd really rather just take a nap.
By the way, my husband's been working this whole time — he's not just some Neanderthal jackass who's been wondering where dinner is (especially since he's generally the one cooking dinner…).
I have really great friends. They've been shopping for me today so I can bring something to the potluck tonight. Someone is most likely just going to take my kids, so at least they won't miss it. But frankly, this just sucks.
To some extent, this is the perfect end to a pretty crappy year. Maybe at midnight some magic fairy dust will sprinkle down and fix everything. I'll keep you posted.
The thing is, I've been sort of looking forward to this night. I'm happy to have this marker. I'm slightly relieved to hit the reset button and put 2012 behind me. It feels like taking a breath.
But here's the funny part — today, my son woke up and started to get teary when he realized today was the last day of 2012. When I asked him why, he said, "I'm just sad to see the end of such a great year."
"Seriously?" I said (I couldn't help myself — it just came out).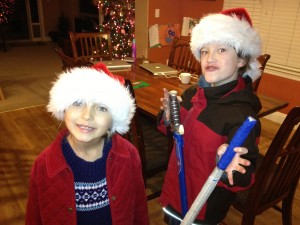 "Well, yeah. I mean, I know we had the people who died and that was bad. But there was my birthday. And Christmas and Thanksgiving. And Fourth of July. And Halloween. And those were all great."
Yes. Those were all great. We've had more than our fair share of great.
And the greatest part is having someone to remind me of that.