I had a really crappy day yesterday.
In the morning, my coffee pot freaked out. There's nothing quite like the joy of dealing with piping hot liquid spilling onto the counter, burnt coffee smelling up the house, and wet coffee grounds sticking to every nook and cranny of a black, plastic container. I poured coffee/water/grounds mixture on myself so many times during the cleaning process that it made me start to wonder if I'd ever want to drink coffee again (p.s. I drank four cups this morning).
Then I spent an hour on the phone with the timeshare people (for the timeshare that we haven't ever used) so they could tell me that their website is unsecured and useless, their salespeople lied to my face, and we owe them $900.
And then the kids' bookcase broke so I had to pull nine years worth of books out of it and attempt to sort them, all the while knowing that my hoarder-girl daughter would have a fit if we gave any of them away. So basically this was an exercise in futility.
Anyway, after spending my entire day basically doing nothing, I was so sad and downtrodden that I finally plopped down in front of the TV, where I caught the end of Little Women — right at the part when Beth dies — and bawled my head off because apparently I'm sad about my dead mom (probably because her birthday is on Thursday and we're finally putting her ashes in the columbarium at her church). Long story short, my last day as a 42-year-old (spoiler alert — today's my birthday) really sucked.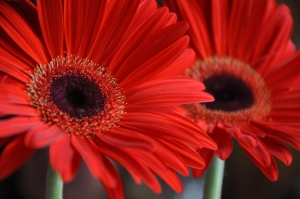 But today. . . today is much better. I've been doing exactly what I want to do, saying what I want to do, and feeling just fine about it (which most of you probably do all the time, but frankly, I don't). Today I went to breakfast and a movie with my husband (although in hindsight, seeing The Descendants probably wasn't the best choice). I turned down offers (nice offers, incidentally) to do things that didn't work for me when I'd typically bend over backward to accommodate someone else. And best of all, I'm writing.
I miss writing. Really miss it. I haven't been doing it lately because my muse tends to show up around 10 p.m. to 1 a.m. Unfortunately, as it turns out, I need sleep. So in an effort to make myself feel better, I've been depriving myself of my late night writing sessions.
It's a hard line to walk — I get more sleep but feel more depressed if I don't write. I'm exhausted but feel more alive if I do write. Both make my body hurt. Which one's worse, I don't know.
I do know that today my muse is here at three in the afternoon. The kids are at school and my husband is picking them up. There's snow on the ground and the sun is shining. We're having salmon and key lime pie for dinner. And even thought my head hurts, it doesn't hurt nearly as bad as it did when I was cleaning out that coffee maker.
I think 43 is going to be a much better year.