So today, Jasper fell out of the car.
Just to be clear, Jasper isn't our kid — he's our one-year-old Lab/Finnish Lapphund. And we weren't going very fast. Fortunately, we were driving back from a walk in the woods on a small, paved service road.
Jasper likes to stick his head out the window like all dogs, but he's also figured out how to actually roll down the window. So whenever we roll down the window a bit to let him stick his head out, we lock the backdoor switches. Unfortunately today, I was alone with my son, his cousin, and my aunt's dog, so you could say I was sort of preoccupied by activities ongoing in the back seats.
Anyway, we were cruising along, probably going around 15 mph, and Jasper was hanging out the (unbeknownst-to-me) completely open window. And then we hit a speed bump. Next thing I knew, Jasper had flown — thu-dump-dump — out of the car.
I slammed on the brakes, jumped out of the car, and went to get him. Sometime during the time he and I were trying to run into each other on the same side of the car, my aunt's dog jumped out. Now Sydney doesn't come to anyone but my aunt, so this is when I started to flip out. I'm calling the dogs, both of whom are running away from me, around the car. And I have visions of Sydney running off into the forrest to find my aunt (she and the other kids were in the car ahead of us, out of site).
The boys are both yelling, the dogs are circling, and finally, I get Jasper back into the car. Fortunately, Sydney follows him, and we close everybody in. When we finally got a look at Jasper, he turned out to have a busted lip. My poor son started crying. He was so worried about him (even though this wasn't the first time Jasper had a lip injury).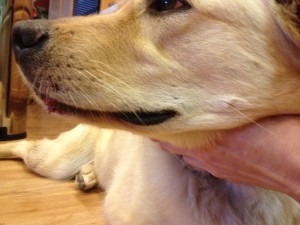 Incidentally, this came on the heels of my daughter taking a huge digger while crossing a stream. Not exactly the best wildlife experience.
Let's just hope camping goes a little better.