About a month ago, I wrote this on my Facebook Page:
I'm trapped at the kids' martial arts class with only 10% battery on my phone. It feels like that scene with the woman who's left in the cave with the flashlight in the English Patient. Ok maybe not exactly like that…
On that particular day, I'd planned to drop off  the kids and run to the store, so I didn't even consider bringing something else to do.  But Elfie started flipping out about something, so I stayed. I sat down and sort of broke into a cold sweat because I wasn't exactly sure who was going to strike up a conversation with me. Topics in that place have run the gamut, so it's kind of like a box of chocolate. That is, a box of chocolate where some of the candy is laced with Epicac or stuffed with razor blades. Nothing like trying to pretend you don't hear people spouting inaccurate crap about Obamacare so you don't get into a fist fight.
So that's why I need my phone. To hide. It's like being a passenger on a plane without a book. You just don't do that.
Unfortunately, I had a dead cell phone battery. And short of sitting on a dirty floor next to a wall, I was screwed.
The Powerocks Magicstick
Lo and behold, guess what shows up at my door a few days later — a portable cell phone charger called the Powerocks Magicstick. It's cute, it's pink, and it comes in a little bag that I throw in my purse. And it's already saved my ass three times. Once so I could take these adorable pictures of the first time my kids went ice skating: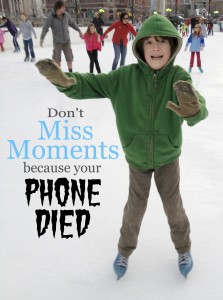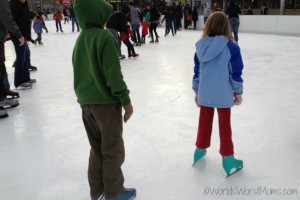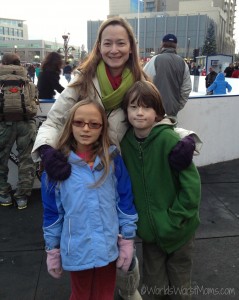 The thing is, you don't want to miss that kind of stuff if your stupid phone dies. And mine does all the time. This little Magicstick is light, comes in a bunch of cool colors, and will charge your phone and lots of other devices in the same amount of time it takes at an outlet (it'll charge something twice before you have to charge it again).
And you don't have to sit on a dirty floor (so butt saved literally and figuratively…).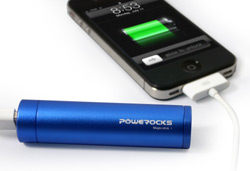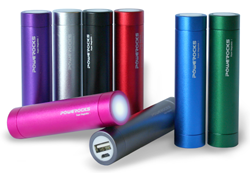 Anyway, Powerocks is going to give one of you guys a Magicstick (isn't that nice?). Just click the little button down there to enter. You need to live in the U.S. I'll pull a name in a week. And if you don't win, you can always go get one here.
By the way, I know what you're all thinking — how do I keep finding all these products that sound so. . . double entendre-esque?
Well it's not me. It's you. You all just have filthy, filthy minds.
*The nice people at Powerocks were nice enough to give me a Magicstick (uh huh huh huh, she said, "stick") to try it out for myself so I could make sure it didn't suck. All opinions about it are my own. Although sometimes I am slightly influenced by the dog.