This is the follow-up post on how to throw a kick-but Harry Potter birthday party (we did this when my daughter, Elfie, turned nine). Part One describes all the prep work. It's really not as scary as it sounds…
So this post is meant to walk you through the actual execution of the party. Basically it takes the kids from their horrible closet-dwelling existence to a life in the wizarding world of Hogwarts. Theoretically you could do this with one adult, but the more the merrier. And honestly, once you get the grown-ups into it, they'll have fun (especially if there's butter beer…).
By the way, I'm sure this would all work during the day, but it was so much cooler at night. Nighttime just makes everything more mysterious and fun. We waited for the sun to start setting so that the outdoor stuff would be in the dark dark.
I should also say that if you're one of those people who can't stand the idea of their kids doing anything even slightly risky, the charms section may not be for you. It involves fireworks and you'll need the "Danger Dan" person in your family to handle it (in my case, that's my husband — this wouldn't have happened with just me around). And do I even need to talk about my accident with the broom?
The Closet
Start the kids out by sticking them all in a closet and telling them this is their new home. We had six kids, but if you wanted to make this a much bigger party, you could always break them into groups and put them in different closets. While they were contained, we hung up the signs for Diagon Alley.
Slide the letters from Hogwarts under the door. The kids will eventually come out. One thing we learned was that by putting the original list of supplies in the letter, they felt the need to read through the entire thing. And those who were a little more "concrete" in their thinking had a small problem understanding that they were just buying a wand, books, and one robe from Diagon Alley (not every single thing on the list).
Diagon Alley
With six kids, they pretty much stayed in a group and went from one shop to the next. If you have a bunch of kids, they could all spread out as long as you have someone to be a shopkeeper at every store. And if there's someone to play Hagrid, he can sort of direct everybody.
Flourish and Blotts is easy — just pretend a bunch of your books fulfill the supply list. The most fun is loading the kids up with a big pile.
Madame Malkin's is also easy — have the kids stand on a stool and pretend like you're "fitting" them for their robes.

Ollivander's is where you'll need your best actor and most knowledgable Potterphile. My friend played Mr. Ollivander. She pulled wands out of drawers and talked about how they were made with unicorn hairs or phoenix feathers. Then she'd present a wand to a kid and ask him/her to "try it out." When the little witch or wizard waved it, another adult would throw something (like a stuffed animal) across the room, and Ollivander would gasp, "Oh, no, no, not that one." Then when the kid tried the "right" one, we played the beginning of The Lion King theme (I should've gotten ahold of exciting Harry Potter music, but I ran out of time).

The last store that we threw in as an afterthought was a pet shop (basically Elfie's stuffed animal collection). The kids really liked this. Hogwarts allows owls, cats, and frogs, but our crew ended up with quite a few dogs.
Hogwarts Express
Have Hagrid (or someone) give the kids their train tickets, and tell them their books are magically being packed (so they don't have to carry them anymore). Send them down to Platform 9 and 3/4 (in our case, the dining room) and load them onto the train. We used six chairs — three facing three to look like a train car. You can also have someone walk through with a "food cart." We remembered this last minute and scrounged up some jelly beans and taffy, but you could potentially get really elaborate.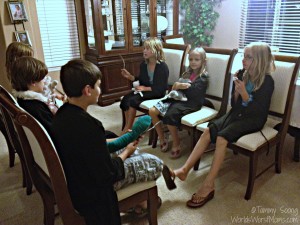 The Sorting Hat
Hagrid can lead everyone into the Great Hall (in our case, the family room/breakfast nook) and have them sit down. Then have Professor McGonagall welcome them and call each one up to sit on a stool under the Sorting Hat. Originally, we just assumed we'd put everyone in Gryffindor, but we quickly realized that some actually wanted Hufflepuff and Ravenclaw. We ended up asking where they wanted to go before they sat down. Then the hat sort of hemmed and hawed about it and put them in that house.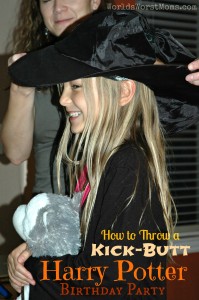 If you did this with a ton of kids, you could figure out your groups beforehand and then sort them into houses. There are four classes to attend, so if there are a group of kids who love to be bad, I suppose you could even make a Slytherin House.
Class Schedule
We sent the kids up to their "dorms" (my kids' rooms) after the sorting because that's what happens in the books. They found their class schedules, and we didn't hear from them for a while. Apparently we had to tell them it was the next morning before they'd come down…
If you have a large group, just tweak the class schedule for each House so that they're all in a different class each period. If you only have three groups, I'd suggest leaving the most time for Charms. In other words, have one group do Charms and let the others get two classes done during that time. If you're worried about a lull in the action, you could always have a potions assignment ready for them to work on: "Create a potion — what does it do and how do you make it." Damn Snape. Always giving out homework…
Broom Flying Class
As I explained in the prep post, we finally got smart and lowered the broom swing. After the party, my husband, Tenzin, tweaked the broom swing to make it a whole lot better. The kids actually have pretend Quiddich games on it now (with one throwing or catching balls and the other commentating the game).
For the party, someone needs to play Madame Hooch. Basically just pretend you're like every other coach — sort of barking and humorless. Each kid gets to ride the broom. Maybe ask them if they're trying out for Quiddich and what position they'd like to play.
Potions Class
This takes your best actor. You need a good Snape. My friend came in and checked everyone's foreheads for scars, took points off for random infractions, and explained away my typo on the potion assignment by blaming Harry Potter for writing it incorrectly.
For the rest of the class, you're just creating the potion. Two kids were at each of our caldrons. They added their yellow vinegar, some sprinkles, and then baking soda in blue water solution. When it all started to bubble, Snape asked what they'd done wrong (argh!!). He (she) quizzed them on what a shrinking potion might be used for and how to reverse it. And then he threw them out of the dungeon.
Divination Class
For this, you need someone who can act dreamy and come up with crazy predictions about the future. But the fact is, I did this part, kind of sucked at it, and still pulled it off.
Start by welcoming everyone to Divination and telling them you'll be gazing into the future — that they need to open their minds and let the swirling colors tell a story. Pour the milk into your glass bowl, add drops of food coloring, put in the dish soap, and ask them what they see…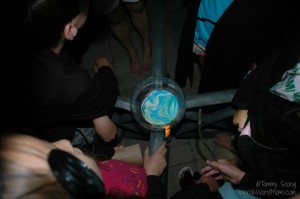 I ended up predicting that someone was having a birthday and we were going to have dessert (very original). We did this outside in the dark with a flashlight shining down on the bowl for added effect.
Charms Class
For Charms, you need an adult who can remember a couple of spells and isn't afraid of firecrackers.
First, teach the little witches and wizards two spells:
Incendio — to make fire
Wingardium Leviosa — to levitate
They'll be lighting their firecrackers with "Incendio" and then raising them in the air with "Wingardium Leviosa." Do this one at a time. Have everyone stand back. Light the firecracker as the performing student points her wand at it and says, "Incendio." Tell her to say, "Wingardium Leviosa." Then raise the firecracker by pulling it up with the fishing line.
Final Celebration
Bring everyone back to the Great Hall for birthday cake!
********
Hope that was helpful. The kids had a great time and are still running around with their wands. I think Elfie is expecting her real letter in two years.
Want more great party ideas? Check out this Neighborhood Treasure Hunt and the Not-So-Amazing Race.