Every once in a while, someone contacts me with a product that's just so cool. And then I get so psyched because I end up being able to give it to you guys!
Just to be clear from the get-go, the folks at Jord gave me one of these fabulouso watches (that I'm about to tell you about) so I could check it out and do this review. But I would've just sent it back and blown off the review if it sucked.
But back to the coolness. I got an email from Jord — which, incidentally, is Swedish for earth, soil, and land — asking if I'd like to check out their wood watches.
Wood watches? Um, okay. . . will there also be a cute bird on the top that pops out of a little door and goes "cuckcoo" every hour on the hour?
Turns out that yes, these guys make watches out of wood — all handcrafted and sustainable (like I'd be telling you about them otherwise). They're beautiful. Like little pieces of art that you wear on your body. They told me to pick one out, and I felt like someone was making me choose one piece from a box of chocolate truffles.
So I asked my then-21-year-old cousin, Garret — who's much cooler than I am — to help me. We ended up ordering this one: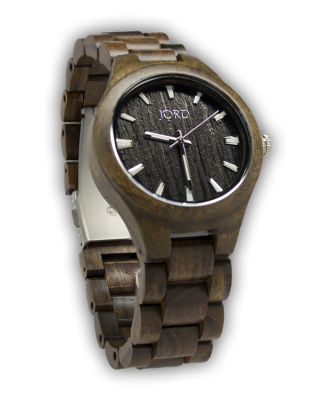 When it arrived, it was just as pretty (and, ahem, studly and masculine) as it was on the website. I showed it to my husband, who thought it was. . .
Too cool for him.
Truly, this is a guy who wears one of those rubber, digital deals to work so he can call, "Time of death," and then wash it at the end of the day.
So I stole it for myself.
I had grand plans to wear it out on the town until I realized. . .
I never go out on the town.
So. . .
I gave it to Garret for his 22nd birthday. Like I said, he's much cooler than I am. And he'll draw more attention with that thing than an antique cuckoo clock at a Swiss genealogy convention.
And now for the fantabulous news: Jord is giving a watch to one of you guys! Happy Birthday! Not really.
I'm keeping entry open until the end of June. You'll get your very own Fieldcrest watch. And good news — you can be from anywhere in the world to enter!
a Rafflecopter giveaway

Good luck everybody!