The kids turned in their science fair projects last week. Neither of them made it to "the big show," but that wasn't a huge surprise. Motivating kids in this department has been historically. . . frustrating. They basically procrastinate for two months, decide last minute that they want to do a "great job," and then get angry because they didn't get chosen. I suspect one of these days, they'll figure out that 80% of the reason why certain kids do get chosen is because 1) their boards look nice and 2) they perhaps let their parents help them with the verbiage in the reports instead of telling them to piss off.
I usually give them a "What do you think you can improve on next year" speech to go along with my irritation, but I sort of laid low this year. I felt a little bad for Newt — he actually worked pretty consistently on his. I mean, I'm a bitch but even I have my limits.
Anyway, it turns out they didn't care all that much about moving on to the next step of the science fair. But what they were bent about was the fact that they got "awards" congratulating them for doing excellent science fair projects. Yes. This totally ticked them off. And we ended up in a deep conversation during the car ride home.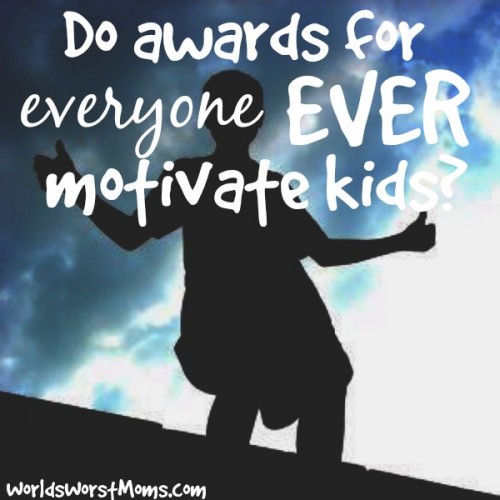 Motivating Kids
Newt: I don't know why you would even bother to give everybody one of those things. I mean, if you give it to everybody, then it's just. . . you know. . .
Me: Meaningless?
Newt: Yeah. Why would you do that? What's the point?
Me: Well, you have to understand that somewhere around 20 years ago, people decided that if you gave an award or trophy to some kids — like if they won a game — then it might make the other kids who didn't get an award feel bad. So everybody started giving trophies and awards to all the kids no matter what happened. Even if they won or lost.
Newt: But that doesn't make any sense. How would you ever know if you did a good job? And you'd never have any times in your life that were great. It's like the whole heaven* thing and why it doesn't make any sense. If you're always happy, like in heaven, then you won't really be happy because you can't just keep getting happier and happier. There has to be a balance. You have to be sad sometimes or else you won't know what happy feels like. Otherwise, you'll just feel nothing. In heaven or in hell.
*And yes, this has been my explanation of why I don't believe in heaven or hell. I'm proud to say that clearly it's not only been heard but clearly understood.
Elfie: Yeah! I don't know why grown-ups do that to kids. And they talk to us like we're stupid.
Me: Do you guys know the word "condescending"?
Both: No.
Me: When you're being condescending, it means you're talking down to someone. Like they're not as smart as you are. Or less than you are.
Elfie: Yes! Okay, here's an example. Adults — not you — do this thing where they go up to a little kid and say, "Wooowwww! Goood jooobbb!!!" And it's so irritating. It's like, just be normal. I mean, that's not how you talk to kids. You just say, "Hey, good job." When I talk to little kids, that's what I do. I don't get all in their faces and yell, "Oh! You're so awesome!!"
So. . . yeah. The stupidity of awards for everyone? Not lost on my children. Kids are smarter than we think they are. They aren't fooled by cheap tricks to boost their self esteems. They don't appreciate being told they've done a good job when they haven't. And they resent seeing their peers being praised equally for doing less work.
Kids are just like adults. They know the real score of the game, even if no one's supposed to be counting. They know when someone's been picked for doing good work and not just randomly selected. And they know when some ass kisser is yanking their chains.
That's one advantage of being a bitchy mom. At least they know that even if almost everyone around them is motivating kids by yanking their chains, chances are, one of them won't be me.