So I know I promised to do my next post on the execution of the Harry Potter party, but I had to show you guys this. Remember how I fell off the broom?
Well first, let me back up. Some of you may remember last 4th of July when I was at my dad's cabin and fell through a hole while chasing Jasper (our puppy). I basically put my foot into a space between a bunch of rocks, and my whole leg went down, all the way to my hip. I didn't see the hole because it was covered with foliage (I love that word — it sounds so much more interesting than "weeds and other crap.").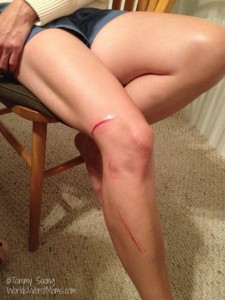 Anyway, I got two nice gashes in my right leg, just in time for shorts season. And I told everyone these things weren't going away anytime soon (it's the curse of having this nice Asian skin). Of course no one believed me…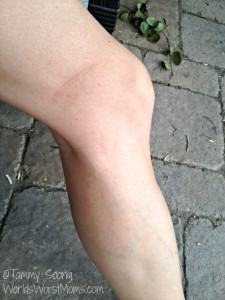 Fast forward to this summer and what do you know — still have scars (and apparently no pigment — gotta love that first lighting situation). Fortunately I'm not a 16-year-old girl, so my sense of vanity has decreased to the point that I don't really care (not that I really cared last year). But now, I have this: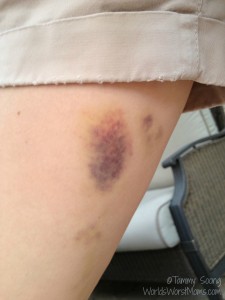 I look like someone's been beating me with a bat. The bruise is, of course, on the inside of my thigh, so I have a choice. I can wear shorts and get asked the inevitable question of "How in the world did you get that?" (the answer to which is rather long, ridiculous, and fraught with openings for pornographic one-liners). Or I could just stick to pants.
At least I won't need as much sunscreen.