My 7-year-old daughter, Elfie, is a bit of an enigma to me (I'm sure that'll get a lot better as the hormones kick in). One thing that confuses me the most is her preferences when it comes to clothes. Just when I think I've got it nailed down, she pulls the sparkle shoes out from under me.
Elfie has been known to combine every pattern, color, and seasonal accessory known to woman (and not necessarily donned during the appropriate season) in her fashion choices. I almost never say anything about what she wears. I'm trying really, really (really, really, really) hard to just let her do her own thing and not get all wrapped up in her appearance. We have enough stories about moms shooting their daughters up with Botox or first graders on diets or the dreaded Toddlers and Tiaras. I just want my kid to be a kid.
Anyway, like I said, Elfie's tastes are "eclectic." She's always loved pink, sparkly, ruffly things. But her favorite piece of clothing right now is an over-sized T-shirt that she wrote "Money can't buy you love" on with puffy paint. And while she does have some froofy princess nightgowns (that look more formal than some of the bridesmaids dresses I've owned), her usual sleeping attire is one of my dad's white undershirts that she's "stolen" from his house.
And as for shoes, she's always been a fan of slip-ons. I could never get her interested in wearing tennis shoes. But here's the thing — Elfie's never been much of a runner. She's a run-around kid, but she's always had a difficult time actually running. I finally had my chiropractor take a look at her because she was complaining about her hip hurting all the time. And lo and behold, a couple of months later, Elfie's all interested in wearing tennis shoes and running everywhere. Correlation? Causation? Who knows. Who freaking cares?
Anyway, last week, while we were in Portland, Elfie basically did a final thrashing on her already old pair of red sparkle shoes (apparently they are not waterproof). So while I was cruising Target today, I ran into a new, suped-up, nuclear pair of sparkle shoes that seriously had me standing in the aisle like an idiot for about five minutes. Because I couldn't decide whether or not these things were just too over the top.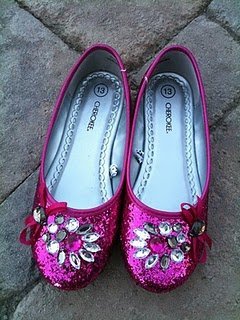 I get very torn about this sort of thing. I know it's lame. I know I should just relax and buy the frickin' shoes. Because they're fun, damn it. But the fact is, if it were up to me, she'd probably be wearing something brown or black and. . . coordinated.
But that's not Elfie. So I grabbed the shoes, not knowing for sure if she'd think they were over the top (because remember, I never really know when it comes to that kid). But of course she liked them. They're hot pink. They have jewels. And they go perfectly with the shirt she made with puffy paint.
Money can't buy you love. She's already got that right. But it can, on occasion, buy you some pretty sweet sparkle shoes.