So just to solidly make the case that I'm absolutely off my rocker, I'm sharing the following. Actually, let me back up. Over the last couple of days, I posted some pictures of the cupcakes I helped make for a school fundraiser, and people have made some lovely comments about my decorating abilities.
The thing is, most people don't know the half of it. My history with cakes is epic. It's wrought with near disasters, fantastical recoveries, and artistic tantrums heaped upon unsuspecting bystanders (mostly my husband).
Cake decorating started with my dad — we'd make my birthday cake every year (it was kind of our deal). So when I had kids, I was positive this would be one of my traditions (because before you have kids, you know exactly how things are going to go…). Anyway, I thought it might be fun to flip through my decorating "portfolio."
By the way, sorry for all the smudging on the pictures. "Newt" and "Elfie" had their real names on their cakes. Obviously.
So for Newt's first birthday, I stayed mellow (or so I thought) and made cupcakes that I'd planned to decorate with red on white — sort of a Chinese "good luck" theme. Problem was, well. . . have you ever tried to make your own red icing?
Yeah. . . you can't make red icing. You can make dark, dark pink icing. And then you can go cuckoo crazy because you convince yourself that you're doing a terrible job as a mother and that making perfect cupcakes for your 1-year-old is critical because it's the only thing you're capable of doing "right." Thankfully, even though your husband will think you're nuts, your friend will understand and go to the store at 9 p.m. to buy red icing for you.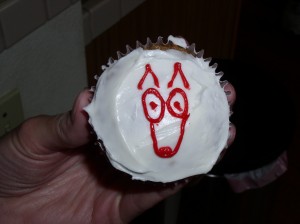 I got more elaborate when Elfie came along and drew actual Chinese characters. And no, despite appearances, I don't know Chinese. I just copied it.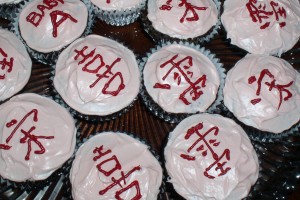 What followed for Newt was a series of Thomas the train cakes. When I looked back at these photos, I was shocked to see just how into Thomas the boy really was. Apparently I'd blocked it out.
Incredibly, this is the best photo I have of this cake. At the time, I had an even worse case of "No, what I do isn't that noteworthy" syndrome, so even though I worked my ass of on this and had to pipe seven different colors of icing, I didn't want to appear too full of myself and actually take a picture of the damn thing.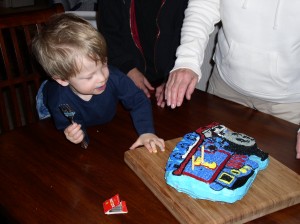 We did have one gap between Thomas years: Elmo. I actually free-handed this thing. Drew it from a picture on a cup (not that Elmo is a particularly complicated guy).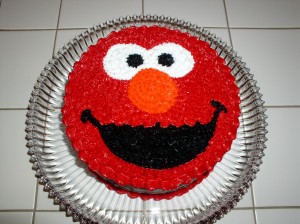 Then the Thomas years continued. This next one ushered in a great little trick — using birthday gifts on the cake. It was also one of my biggest salvage jobs. The cake freaked out and broke into a bunch of pieces, so it became a hill.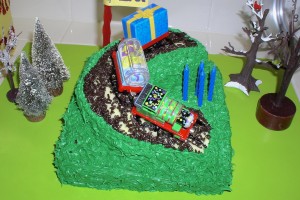 When Elfie turned two, I caved and bought a cake because we combined her birthday with a "moving out of our house" party. But on her third birthday, I was back to not only making one cake but two because my in-laws were gluten-free. So next thing you know, I'm "bridging" cakes. As you can see, Dora and Boots are going through the gate, over the river, and up the ladder to get to their treehouse. Where do they have to go again? (thank the gods we're past the Dora stage).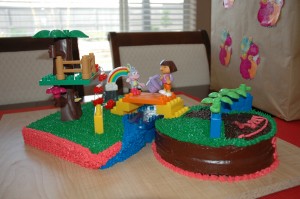 Newt had two more Thomas cakes, one with trains going through the snow and the other with a loading dock. On the first, my mom made a little cardboard station, and I sprinkled the whole thing with powdered sugar. And on the second, I used mini chocolate bars that we'd thankfully already bought for Halloween to make docks, ramps, and cargo (I say thankfully because I tend to put stuff off and then get caught rifling around the house for weird stuff to use).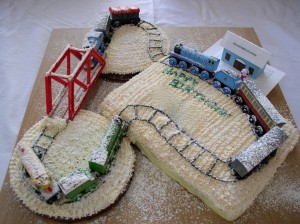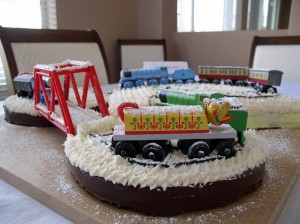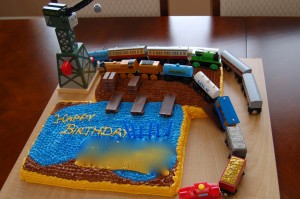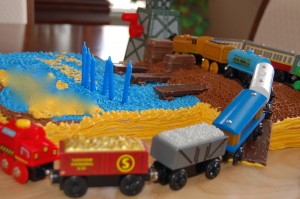 Elfie had the only Playmobil cake, which worked out really well except when it got so hot in the house that the frosting started to melt and slip off the cake. So the blue waterfall actually got turned into flowing water. Because it was flowing…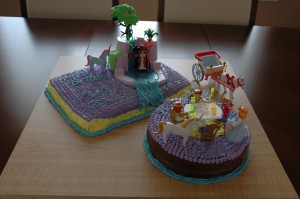 Sadly, that was the last "big time" cake I ever made. The next year, my mom passed away a few days before Elfie's birthday, and I knew I'd never be able to pull it together. I remember breaking the news to Elfie: "I'm really sorry, but with everything that's going on, I'm just not going to be able to make your cake for you this year. So we're going to have to buy one from the store." Her response? She yelled, "Yes!" and threw her arms up in the air.
So as it turned out, I put an inordinate amount of stress on myself to unnecessarily accomplish a time-consuming, usually frustrating task that made my husband question my sanity and left me somewhat debilitated (remember that I have that chronic pain thing, so hours and hours of hunching over a cake — not the best activity).
But hey, at least they had nice cakes.
I did make cupcakes for Elfie's crazy neighborhood birthday treasure hunt a couple years later, but that was mainly because I was too cheap to buy cupcakes from the "good" place in town for that many kids. Plus I couldn't bring myself to buy the same grocery store crap we'd gotten for Newt's party a few months before (sure, I could stick plastic soccer balls on the cupcakes your bakery sells in plastic containers, but please, you do it, put them in a pink box, and charge me twice as much). Anyway, these "fancy" cupcakes from Elfie's birthday are deceptively uncomplicated. If you get little flower liners (these were from Michael's), they make you look like you worked really hard. The roughest part is getting the batter in without smooshing it all over the edges.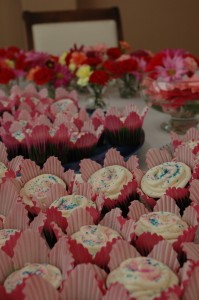 So there you have it. Just more proof that I'm crazy. My only consolation is that I'm positive I'm not alone.