One thing I love about our kids' school is that because they're a charter, they can do crazy assignments whenever something interesting comes up. The other day, my son, Newt, came home looking like he'd won the lottery because his teacher had signed him up for NaNoWriMo (National Novel Writing Month). If you're an adult, you try to write a novel, 50,000 words, in one month. For kids, the amount is flexible. Newt is already in the middle of his novel (I won't, you know, give the story completely away, but it involves aliens, ninjas, zombies, and monsters of various sorts), and his teacher — instead of squashing him by forcing him to do the normal class writing — is encouraging the whole project.
Seriously, how cool is that?
Anyway, every year, the the kids do a Nevada Day report. Last year, Elfie dressed up as Sarah Winnemucca and Newt dressed like a Hoover Dam worker. This year, because of the elections, the teachers had the older kids do a "Best Nevadan" project. Apparently the kids were doing a lot of arguing over the presidential race and almost coming to blows, so they decided to channel their energy elsewhere (which cracks me up because when I was nine, I didn't give a damn who the president was).
The kids could create a campaign, make a fan club, or write a debate-type speech. Newt chose Kit Carson and put a campaign together. I'm not going to lie. The boy is a pain-in-the-ass, but once he gets going on something, he's amazing. Getting him going is the hard part…
I think I discussed the nuts and bolts of a campaign once? Twice? Thrice? On the last try he finally "heard" me and started working on it. Clearly something sank in because the boy absolutely kicked ass.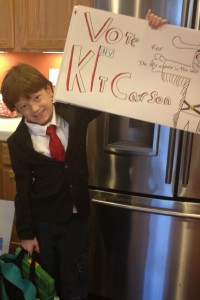 He came up with bright, easy to read posters with a funny cartoon drawing of Kit Carson that played to his base. He took advantage of the western vernacular: "Vote Fer Kit Carson." He had a slogan that wrapped up the message: "The Best Explorer in the West." And then he made enough stickers for every person in the class.
On the day of his presentation, he dressed in his suit jacket and tie. He delivered his speech — which was chock full of exciting and amusing anecdotes about Kit, including how his feet were as tough as a Hobbit's and how he could shoot stuff from one-and-a-half football fields away (again, playing to the base). And he waited until AFTER he had everyone hooked and excited to hand out his stickers instead of trying to push them on them before his spiel.
The boy blows my mind. Apparently he was a little fireball during his presentation. And when he came home, we analyzed the tactics of a bunch of the other kids. It was like I was working…
I just need to mention here that this is a kid who we were afraid would never speak to people. Who would maybe be able to function in normal society if we were lucky. Who we assumed would be some computer dude who collected comic books and rare lizards (not that there's anything wrong with that…).
Anyway, low and behold, Kit Carson won. He won the "primary election" in his class. Now he has to go up against the winners from two other classes in the general (on Tuesday — election day, of course). The whole class is now dedicated to creating a publicity campaign, making a commercial, and doing research (which, get this, includes mud slinging).
And maybe I'm biased (of course I'm biased), but I don't think anyone will be a better campaign manager for Kit than Newt was. When the "national party" takes over, things always get screwed up. I'm sure this will be no different.
But I couldn't be prouder. And more frightened. As happy as I am that the kids love watching John Stewart (and even occassionally Lawrence O'Donnell), the last place I'd ever want either of them to end up would be in politics (she said, as she got ready to go off and bust her ass on the Obama campaign).
Fighting the good fight is important. And noble. And necessary.
But I wouldn't wish that life on the people I like least in the world, let alone the ones I love the most.