Some of you know that my 8-year-old son, Newt, was diagnosed with high-functioning autism/Asperger's syndrome when he was 3. He's since tested off the spectrum, and at age 6, we held our breath as he walked into 1st grade without anyone knowing his history. It's pretty much been business as usual for the last two years — the same kid problems everyone complains about online and in-person.
I read way more blogs about autism than I probably should. Mainly because they just stress me out. They make me want to give advice, and I feel uncomfortable giving advice on how to parent your kid. I did it a while back when I wrote a list of stuff that we did with Newt to get him where he is today. But every family is different, every kid is different, and the fact is, people get pissed off at you. The problem is, I read these blogs, and all I can think about is "solutions."
I don't know if my husband and I are some sort of savants (maybe we're autistic!), but for whatever reason, dealing with our son and his problems came very naturally to us. It was all quite logical (see, we're Mr. Spock — totally autistic). So when I read about someone's issue, I want to jump on in. But usually, I restrain myself.
Today, I didn't. Today I was on Dad v. Autism and read about a dad whose 8-year-old, high-functioning autistic son didn't like to read. He liked to watch educational documentaries on exciting stuff like dinosaurs. He'd occasionally pick up his dinosaur book. But he had no interest in fiction, so the dad was worried about him not developing the basic ideas of literature (plot, characters). The dad did say, however, that the boy liked watching TV shows with characters: "Which is strange too, because there are TV shows and movies that he does simply love. . . but for some reason getting him to read about such things is much, much more difficult."
Now, maybe the answer to this is obvious to the rest of you guys, too. I'm probably overestimating my abilities here. Because if this were Newt, here's what we'd do: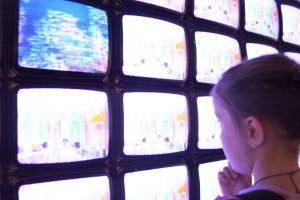 1) Go cold turkey on the TV. We did this when Newt was almost 4, and it was difficult at first (for us more than him, actually), but it's the best thing we ever did for him. I know that there's a segment that likes the idea of technology for autistic kids, but think of it like this: if you're a person who has problems recognizing social cues, how is staring at a screen for any amount of time going to help you? Even if there's a person's face on the screen. We all know from experience that direct interaction with a person is much different than a video conference call. That's why business people fly halfway around the world when they could just dial it in.
And for Newt, TV was like heroin. If he had some, he wanted more. And when he stopped, he got cranky. We pointed this out to him every time it happened: "Look at how you're acting right now. How does your body feel? This is why we don't want you to watch TV. It makes you act this way." He started making the connection himself. Now he can watch TV and self-regulate the time. He stops and says he's "house sick." It also didn't hurt that we told him TV was like junk food for his brain and would rot it (gotta go with the visual).
2) Let him read all the non-fiction he wants. Let him get a zillion dinosaur books at the library. Reading is reading. Who cares if there isn't a plot. Fiction will come. I actually can't stand fiction right now and I used to inhale it. People go through phases.
3) Read to him. So much of language and reading is sound and rhythm. Plus, hearing the story forces him to imagine it on his own instead of being fed it with a movie. Think about how many great books you've read that've been made into horrible movies. It's partially because the director wrecked your vision.
4) Go old school with comics. Peanuts, Garfield, Calvin and Hobbes. Even Spy Vs. Spy — it doesn't have any words, but it has a story, and there's a clear line of cause and effect. Comics are great for all kids, but especially those who have a difficult time with idioms (he put his foot in his mouth, it's raining cats and dogs).
So against my better judgement today, I jumped in and left a comment on the guy's blog. But I think I'm going to make that my last. However, if I can get my ass in gear, this will be the first in a series, called Peeling the Onion, on how we helped Newt.
Then people can come here and judge my parenting, not the other way around.