So the other night, a friend of mine posted this on Facebook:  "Dear baby, it is some kind of federal offense to cry on the red eye."
To which I replied: "Don't hate on crying babies on airplanes. It's bad karma. Trust me."
And then a friend of his said: "But seriously, who takes a baby on a red eye? There's a reason the people who are on it are on it."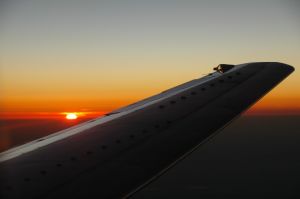 Before we had kids, we traveled a lot. And we used to joke that when we actually did have kids, the airplane gods would surely spare us any horrendous plane rides. Because every single time we set foot on a plane, we'd be one row in front of or behind the screaming baby or unruly child. For the most part, we just laughed it off. On several occasions — I'm not gonna lie — it was completely annoying.
Now that we've personally experienced the joy of parenting on planes, my usual response to the sound of a crying child is, "Poor bastards. Thank Jebus that's not me." We've had our fair share of harrowing situations (despite banking points with the travel gods). Our son let out a raptor scream that actually silenced an entire cabin full of people right before takeoff. And our daughter had chronic ear infections so we basically walked on board with the Eustachian tubes stacked against us.
Anyway, in all my years of traveling, with and without kids, the one thing that never crossed my mind was, "Red eyes aren't for babies." I mean, maybe I'm cuckoo, but last time I checked, people with kids sometimes had to fly long distances. And, last time I checked, kids also slept at night (unless they're my kids, in which case they sort of go to sleep really late, wake up at 2 a.m., come into my room under the guise of having a bad dream. . . but that's another story).
Whenever people on planes get ticked off at crying babies, I always wonder, do they think the parents brought the kid on with some well-timed, evil plan to ensure uncontrollable screaming? How can you get pissed at totally stressed out people who'd probably choose strapping on a parachute and jumping out of the emergency door over staying locked in a big, humming tube and being glared at as they paced the aisles and dodged cranky flight attendants. That's like getting mad at the guy who collapses from a heart attack and forces the plane to make an unintended stop.
I guess my point is, we live in a society. And societies, whether you like it or not, happen to be filled with other people. It's nice when those other people do their best to keep from being obtrusive and annoying to everyone else, but the fact is, there are some things you just can't get around. We stopped globe hopping after we had our screaming children. But once in a while, we had to put them on a plane to visit family or go to a wedding. Life can't completely stop just so the red eye can feel like a communal sensory deprivation chamber.
Besides, isn't that why they made those Bose noise cancelling headphones?