The other day, I read an article in the New York Times about Heather Greenwood, a woman from a mixed-race family in Toms River, New Jersey. She basically described a life filled with relentless confrontation from strangers about her family. In the article, they recounted an incident when a woman in a store saw Heather with her daughter and asked, "How come she's so white and you're so dark?" and then — and this is the NYTimes describing it — "It's just not possible," she charged indignantly. "You're so…dark!"
 
I know that words can hurt. I mean, let's face it. I'm female. Girls grow up learning how to sting with a phrase as soon as they can string a few words together. And it's not just the words we speak — it's the tone and the pauses and the body language. We're all about the  subtle turn of the cheek during a group conversation or the quick "up-and-down" look to make someone feel uncomfortable. It's how we mark our territory (yes, very uplifting, I know…).
Anyway, as I was reading this story, it suddenly made me think — why do we naturally assume that people are trying to be mean?
I wanted to make sure to put in the "indignantly" and the exclamation point when I quoted the NYTimes article because I wasn't there and I have no idea how this lady sounded. She very well could've been a complete, inappropriate jerk. True, the "It's just not possible," doesn't do her any favors, but as far as tone goes, sometimes I think we hear what we go out looking to hear (and yes, I know you can't see hearing — you people know what I mean).
My dad is of Chinese descent, and my mother's family was German, Polish and Czechoslovakian. When were were kids, my mom was asked on multiple occasions if my brother and I were adopted. It was after the Vietnam War, and it wasn't a completely ridiculous question because people were adopting Vietnamese kids and we really didn't look anything like her.
My mom would tell this story all the time. But I never heard her tell it in a way that made you think she was pissed off about it. And now, with my blond-haired kids, I don't get pissed off when people say, "Wow, how'd she end up with those blue eyes?" or "He must look an awful lot like his father."
And the reason I don't get pissed? Because I don't think people are being mean. I think they're intrigued. Physical traits are interesting, and when you combine different races, you get some really cool outcomes. Imagine this: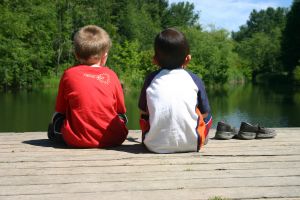 My brother and I, who have dark brown hair and brown eyes, are married to people with blond hair and blue eyes. His kids leaned more toward his looks and have dark brown hair (his son has brown eyes, his daughter's are an amazing dark blue). But my kids leaned toward my husband's looks and have light brownish/dark blond hair (my son has green eyes, my daughter's are blue).
Incidentally, if you didn't already know this, kids tend to look more like their dads so they won't be killed. Because in the animal kingdom, the mother is positive the offspring is hers, but the father needs a little more conformation. Babies that looked more like the fathers tended to not be eaten or whacked. It's just all evolution.
But moving on. When my family went out, especially in the old days when my mom was still around, I always wondered what people were thinking. Were my husband and sister-in-law somehow related to my mom? Were my nephew and niece actually my kids, or did my kids really belong to my sister-in-law? And at some point, wasn't this all kind of sick or illegal? It was like one of those unsolvable brainteasers.
Anyway, I don't know how things are for the woman in the NYTimes article. She could be surrounded by complete asshats who hate interracial marriage and think mixed-race children are the devil's spawn. And I'll admit that growing up in a basically all-white community, I had my fair share of moments when we felt very "stared at." But maybe, just maybe, people think her family is just plain interesting. And her children are beautiful.
And the real reason they're staring so hard or furrowing their brows is because they just can't come up with the answer to that damn unsolvable puzzle.