I can't believe I'm writing another post about that stupid Onion tweet…
First of all, let me just clarify that in no way do I condone someone calling a 9-year-old the c-word. A little kid shouldn't be anywhere in the vicinity of the c-word. Hell, I don't even like being in the vicinity of the c-word.
That said, something's been bugging me. The focus of everyone's ire — from what I can tell — has been on The Onion, their apology or lack thereof, and what an idiotic, tragically irrelevant operation it is. But what I keep coming back to is. . . I can see where they were going with this tweet. They just really blew the wording.
I have very little tolerance for obnoxious children. Including my own. So when I was watching Quvenzhané Wallis at the Oscars, I was cringing. Every time the camera hit that kid, she didn't wave politely or smile as if to say, "Wow, I'm so amazed and humbled to be here. I can't believe I've been nominated for the greatest acting award in the world! I mean, all of these other actresses in my category are amazing. This is incredible!" No. She was pulling a, "Look at me. I'm awesome. If you need something, talk to my agent…"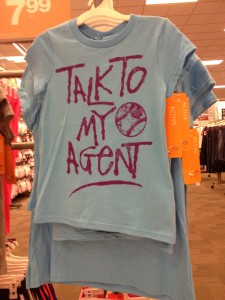 This isn't just her. It's everywhere. We're raising a generation of kids who think it's cute to act like stuck up celebrity assholes. And apparently their parents do too because somebody pays for those "Rock Star" and "Talk to the Hand" shirts.
I expect this from middle schoolers. Middle schoolers are cranky and sullen and hormonal. But younger kids? Younger kids still need to be kicked in the butt and told the "sassy" isn't gonna fly. Then hopefully by the time they are actually middle schoolers, some of the neurons in that built up gray matter will fire a couple extra times when you tell them to stop acting like idiots.
So no, Quvenzhané didn't deserve to be called a c*nt. But she did deserve to be called a brat. Because she certainly was acting like one.