"I'm going to keep these dinosaurs. Just because they're the ones from Nan, so they're special to me." My 11-year-old son, Newt, is going through a box of toys, figuring out which ones to give away. When he says this. I actually feel my entire body relax.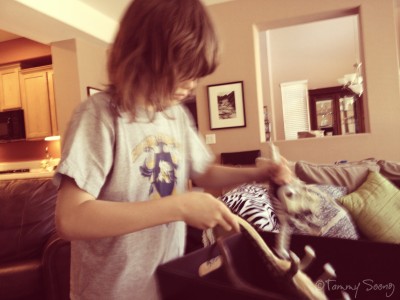 My mother died five years ago on July 3rd. With every toy that goes out the door, every piece of clothing the kids outgrow, a piece of her leaves. In an attempt to keep from turning into some psychotic hoarder who ends up on a Bravo show, I grit my teeth and watch as bags get loaded into the car on their way to Good Will. I tell myself that giving our most treasured possessions to our closest friends is like keeping them with us. I convince myself I haven't completely rubbed off on my daughter who wants to hang onto everything from pipe cleaner bracelets to children's restaurant menus.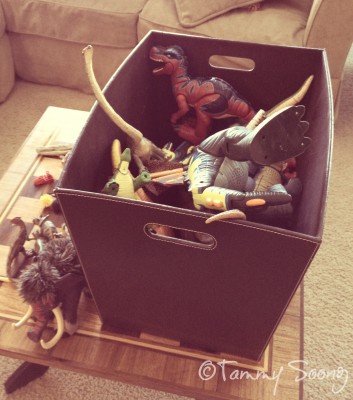 "I'm glad you're keeping those," I say. "That makes me happy actually."
July 3rd. I thought I was fine about July 3rd.
Apparently I wasn't.
It turns out death is so much more complicated than anyone ever really talks about.
I remember a few months after my mom died. I was talking to my dad about her and I started to cry. He said, "That's good that you can still feel so much emotion about her. That your memory of her is still so strong." And that's when I realized — when people say that the pain will dull, what they really mean is, you'll start to forget.
I know. This is a terrible reality to hear. But all the platitudes in sympathy cards and grand sentimental statements at memorials about people living on forever because they live on in your memory are just that. Platitudes. People don't live on. Like photos printed on paper, the images of them start to fade around the edges. The stories you tell about them become "the" stories, and the photos you do have become imprinted in your head as the "real" pictures of their life.
Because everything else starts to slip away.
And so there's a strange arc that's drawn. While your grief for that person begins to wane and you start moving on with your life, you suddenly experience a new type of grief — you've created a life that doesn't include that person.
For about three years, I'd open up the blinds in our house every morning and pass by a framed photo of my mom on the piano. I'd say, "Hi" to her and sort of carry her with me for a while. She'd pop up throughout my day.
Then slowly, I stopped opening the blind on that window as frequently. I'm not sure why. I got lazy. I got busy.
I moved on.
And truly, I convinced myself that I was fine without my mother. That I was "over" her. That I'd grieved well and openly. And that I'd built a life that felt different but still…okay.
But there's a reason why we count years based on revolutions around the sun. We don't really need calendars to keep track of the days. Our bodies have marked certain events. And on Wednesday, mine reminded me that my heart was broken on July 3, 2009.
And I'm not sure what was worse — remembering everything that hadn't faded or realizing how much had.
"They're just kind of important to me," Newt says. "They're kind of a memory of her."
Every once in a while, I get these really ridiculous ideas about having my life completely pulled together. And then something happens. Like July 3rd.
And I find myself, crying uncontrollably. Huddled inside my closet. Feeling like I never left.
And wondering if I ever really will.