We did something so girly the other day — we had a tea party. Even my son, Newt, who has very few issues with crossing traditional gender lines (he told me the other day that he thought dressing in drag like Bugs Bunny would be awesome) was having none of it. To be fair, it did require sitting.
Anyway, to start, the people at Davidson's Organics sent us some of their Rooibos Spiced Chai tea. Not that it really matters, but Davidson's has their warehouse in Reno, and Newt and I actually toured it a few years ago on a school field trip. I don't know how impressed the kids were, but I had a great time seeing how they make tea bags (I have fond childhood memories of the "how they make sticks of gum" videos on Sesame Street).
We also got a bunch of Fig Bars from Nature's Bakery. I enlisted my friend to bring over her three girls and not tell them they'd be eating healthy, nutritious snacks. Just that they'd be, you know, having a tea party.
We got to taste test fig, blueberry, apple cinnamon, and peach apricot. Everything's whole wheat and all natural (which is pretty obvious since it comes from "Nature's Bakery," not "Happy Clown Circus Treats"). I'd say blueberry got quit a few votes, but amazingly, even fig went down fast.
And then there were the Vanilla Fig Bars, which everybody loved. What's not to love about a fig bar with vanilla coating.
Anyway, the girls had a lovely time. My friend and I were really lazy and didn't get out my china. My daughter, Elfie, had a slightly difficult time with the tea bag because for some reason, she thought she was supposed to rip it open and toss it all in the water (and. . . take two. . .). Incidentally, my friend's daughter, who drinks chai every single morning, gave it the thumbs up.
Then they all ran outside and went crazy in my backyard. Healthy snack accomplished. Of course, while my wonderful son was busy digging up weeds. . .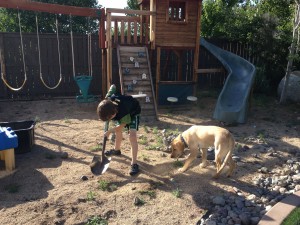 The girls decided to plant a "garden" with everything he'd collected.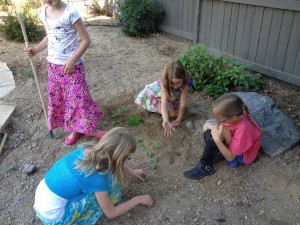 I think next time, we should just bog them down with a bunch of chips and video games.
Disclosure: Davidson's Organics (join them on Facebook and Twitter) and Nature's Bakery (also on Facebook and Twitter) sent us the supplies for our tea party. But I would've told you if the kids thought it all tasted like crap.