And now here's something we hope you'll reeeeaally like…
Remember Banana Bunkers? They're those crazy plastic containers that keep your bananas from getting bruised  — which is actually quite helpful — but look like you picked them up at an adult bookstore?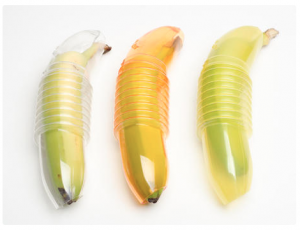 Well, I couldn't help myself — I bought some. And they're all for you.
Truth be told, when they arrived, I considered keeping them because they're sort of creepy-awesome. But instead, three of you will be getting a little dose of post-Christmas, late-Hanukkah, after-Kwanzaa joy. Imagine how many conversations these things could potentially start for you. Just carrying one around could help you find your tribe by weeding out anyone who lacks a sense of humor…
So here's the deal:
#1: Much as I love  all of  you across the pond, down under, etc., I can only mail this to an address in the United States. I mean, they only cost a few bucks. Paying five times that for postage would make me feel like a complete asshole.
#2: I haven't done a ton of this sort of thing, so you guys are going to be guinea pigs as I try out this new giveaway tool called — wait for it — Giveaway Tools (I know, original). Apparently all you have to do is put in your name/email (which will be given to NO ONE) and then you can enter a bunch of different ways:
Commenting
Liking the Facebook page
Liking this post
Joining the Twitter Page
Tweeting (up to 2x/day)
Following the RSS Feed
Following on Pinterest
Pinning this post
And finally, writing about World's Worst Moms and this giveaway. Which will enter you a whopping 25 times!!
Let me know know what you think — was it hard/easy/annoying/convenient? And I'll report back about how it went from my end with Giveawaytools.com.
Good luck everybody! And thanks for hangin' out at World's Worst Moms!
Loading Entry-Form…
…