I like yogurt. A lot. Put it this way: 'twere it not for yogurt, I might be dead from malnutrition.
One of my faves? Chobani. Last year, we were eating so much Chobani and then letting Jasper (the dog) lick the containers that whenever someone said, "Chobani," Jasper would come running. We even use it as his middle name when he gets in trouble.
So I'm guessing the people at Yoplait didn't know exactly what they were getting into when they contacted me to do a taste test between Chobani Greek Blueberry Fruit On The Bottom and Yoplait Greek Blueberry. But even though it's the Yoplait Greek Taste-Off, they said they wanted my HONEST opinion. And seeing as I'm not into lying or sucking up, I was fine with this arrangement.
So this is what happened. I harangued my friend into bringing her three daughters over to join my kids as guinea pigs. We put a dollop of each yogurt on a plate and served it up. The results?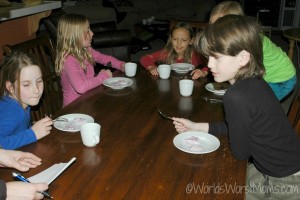 My friend's daughter, who we all consider to have the most "grown-up" taste, liked the Chobani because it was more "sour."
Both my kids LOVED the Yoplait. In fact my son, who won't eat yogurt, actually asked for seconds and ate more of it the next night. My daughter licked her plate clean.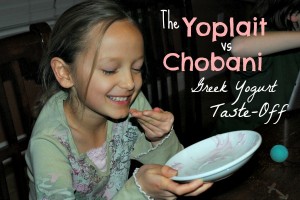 My friend's other two daughters, who ironically are twins, were split. One liked them equally. The other liked them mixed together.
My friend and I agreed that the Chobani was definitely the only real Greek yogurt of the two. It has that sourish taste that makes Greek yogurt "Greeky." The Yoplait is tasty — like typical Yoplait yogurt — but it doesn't taste Greek. And it does have more sugar than Chobani, but hey, at least it isn't artificial and the colors are actually natural (unlike so many yogurts for kiddos).
Probably the biggest plug I could give Yoplait Greek is that because it's blended, kids may like it a little more (in keeping with the whole "I hate pulp in my orange juice" thing). And because it's Greek, it has a ton of protein (11 grams), which at least in my family is a bonus because finding protein sources is a problem…grrr. 
And I almost forgot the most important testers of all — the dogs! Jasper and his friend, Lucky, got to lick the containers. In our test, Jasper went for the Chobani, and Lucky went for the Yoplait. However, it eventually just became a free-for-all (hard to believe).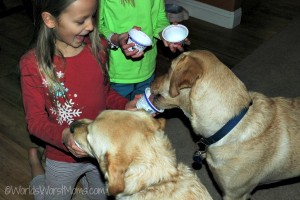 So here's the deal: in a national taste test Yoplait Greek Blueberry Beat Chobani Blueberry Fruit On The Bottom. Seemed pretty split at our house. Think you'd agree?
They really want your opinion, and the debate is playing out over at The Yoplait Greek Taste-Off Tumblr page. Go check it out, grab a coupon, and tell them what you think. Or see what other people are saying and posting. It's fun — people get crazy on Tumblr (I should know…).
Thanks to Yoplait for sponsoring our little taste-test partay and not getting teed off about me telling you guys what I really think.