So I am — big shocker — sort of obsessive about certain things, and one of the more annoying ones happens to be sunscreen. I say annoying because I hate sunscreen. I hate the way it feels, hate washing it off, hate feeling like it never actually does wash off, hate having to sleep in it when there's not a chance to wash it off, hate the time it takes to apply it, hate reapplying, hate applying it on the kids. . . and if that all weren't enough, I hate that most of the stuff out on the market right now is arguably worse for you than just being in the sun.
My mom died from cancer three years ago. Over the course of 12 years, she had three different types — breast, skin, and cervical. They all came down like an evil chain of dominos, and you know how dominos work. Once you get them started, they're practically impossible to stop.
First came the breast cancer, triggered by hormone replacement therapy. It was a cancer that loved estrogen, and back then, the big thing was giving women who were menopausal — you guessed it — estrogen. Cancer #1.
Then came the melanoma on her arm. Quickly caught, easily removed. Mom spent a good amount of time in the sun during her lifetime, but she also used sunscreen regularly. Here's where my sunscreen freakout starts to come into play. There's a chemical in almost all sunscreens called "oxybenzone" that many people believe can disrupt your hormones, act like estrogen, and even give you skin cancer. Awesome. Cancer #2.
Finally there was the cervical cancer, possibly brought on by the Tamoxifen she'd taken as a preventative measure against the breast cancer. Or maybe the other chemo. Or maybe the oxybenzone. Or the BPA from all the canned food she ate. Or maybe the gods just struck her down for being too lovely. Who knows. Cancer #3.
Anyway, long story made even longer, this is probably why I'm a bit of a freak about sunscreen. Because I don't know what to do. Put it on and you die! Leave it off and you die! Cross the road to buy it, get hit by a bus and you die!
So for the last few years, I've been searching for a good sunscreen. Last year I found a pretty decent one, but it was so expensive that it felt like I was plating us all in gold, and I swear I used it more sparingly than I should've because it cost so much.
This year, in a moment of desperation, I bought some all titanium dioxide sunscreen for babies. I think my husband's monologue while putting it on the children went something like this:
"Holy (halted expletive)! What is this stuff? It's like Desitin! It barely even absorbs! I'm practically killing them trying to rub it in! And what am I supposed to do? I have hair on my arms — I'll never get it on! I don't think I can take this for a whole summer. . ."
Wuss.
Anyway, I was already on the hunt for better, faster, niftier sunscreen, and although this one isn't perfect (it gets a 4 on the Environmental Working Group's Cosmetic Data Base, 10 being the worst), it's splitting the difference for me as far as danger and convenience. Because if it's too hard to use, we ain't usin' it.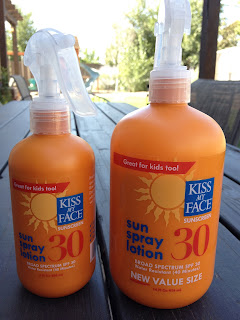 So here it is: Kiss My Face Sun Spray Lotion. It's not one of those aerosols that make you feel like you're off to kill bugs or like if you don't hold your breath your lungs will be permanently damaged. It rubs in easily and doesn't feel all heavy and greasy. And it works. We haven't gotten burned yet (knocks on wood).
Biggest bonus — no oxybenzone. It does still contain octinoxate and octisalate, which is a bummer, but then there's that saying about the enemy of good being perfect. . .
I got the 14 ounce bottle at Whole Foods for around 18 bucks. High for sunscreen in general, but not if you've been shopping in the "good for you sunscreen" department. Plus, it's worth the investment if it keeps me from feeling sick to my stomach when I'm putting it on the kids and if it decreases the possibility that we'll all become frustrated as hell before we go somewhere.
And that makes summer sunnier for everybody.