So I had a small nervous breakdown the other morning. As I mentioned in my holiday letter, Elfie has been getting "mean girled" at school recently. She's in first grade, and even though I know kids are capable of this type of thing starting at birth, it's been depressing because her school really focuses on tolerance, acceptance, and inclusion.  That and, apparently, the caste system (they take multicultural studies pretty seriously).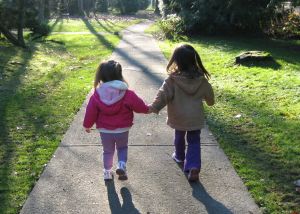 The back story on this is that Elfie is part of a threesome — which we all know is the worst type of relationship unless you're a guy having a fantasy. She's become the girl who is dissed whenever the other two are together and the girl who is sought out whenever one of the other two is absent. The situation, in a word, sucks.
Anyway, we're sitting at breakfast, and suddenly Elfie starts talking about how she doesn't have any friends at all in her class. How everyone's paired up, and no one plays with her. That she's actually being picked on. And then we get the topper. Her big brother, who's in the neighboring class (they're all first/second/third grade combo's), looks down somberly at his waffle and says, "Yeah, nobody in your class is nice to you. You should move into my class."
At least it's good to know that they're keeping tabs on each other.
So my husband takes them off to school, and I proceed to. . . ponder. Then I start reading about bullying experiences on other people's blogs. Then I start to fume. Then I start to do this thing where I imagine various crazy scenarios taking place and how I'd react to them. Like some kid cutting her hair and how I'd demand that the little bitch not only pay to have Elfie's hair professionally cut, but work to earn the money by doing chores at my house and allow Elfie to cut her hair off as short as she'd like to. Because suddenly I've gone all "eye for an eye" psycho-biblical. And then I try to get a grip and imagine how Michelle Obama would react and try to bring myself back down.
I went through all of this in the course of about 30 minutes (I'm getting faster — when you freak out as often as I do, it's important to be efficient). Unfortunately, I ended up sitting on the bathroom floor, in my robe, crying. Not because my kid has no friends. Not because my over-active imagination is clearly not a plus in these situations. I was crying because I couldn't talk to my mom.
My mom, for those of you who don't know, died from cancer about a year and a half ago. About two weeks before she passed away, I distinctly remember my dad saying to my brother and me, "If there's anything you want to ask her, you should do it now." At the time, I couldn't think of a thing. My mom and I were incredibly close. She'd told me her life stories. We talked every day. So after she died, I was caught off guard the first time a question came into my mind that I wanted to ask her — wished I could ask her — because I didn't know the answer.
This bullying mess wasn't the first time I'd wanted to ask her something. But it was the first time it mattered. It was the first time I really, really wished I could hear what she had to say. See, the thing is, I was in almost the exact same situation in third grade. I have my memories of it, but I wanted to hear what she remembered. I wanted to hear how she handled it. And even though I know we're going to get through this, I wanted to hear that everything's going to be okay.
For me, and I think a lot of women, your mom is so much like that third, dissed girlfriend. She may not be your best friend or your favorite person to be around, but you invariably default to her when you need her. She's always there, especially in a pinch. And there's really no one else inside your circle quite like her.
Maybe that's why those of us who've lost out moms feel so alone. Mothers are the third-wheel friends who don't leave even when it's clear that they're "second choice." Without them we lose our safety net. We lose our history. And worst of all, we lose them.
And that, in a word, sucks.