Today was, well, interesting…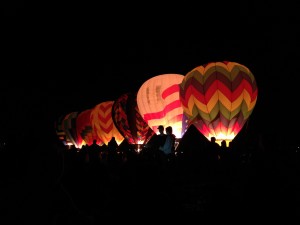 Every year since the kids were about 3, we've gone to the Reno Balloon Races. We drag everybody out of bed before the sun comes up, drive down to a big park with a bunch of freakishly perky people, walk around in the dark, and freeze while we watch close to a hundred hot air balloons inflate. Then we go out to breakfast.
The kids love it. Well, they sort of love it. They always look and act kind of cranky and tired about the whole thing. But same time next year, everybody's talking about getting up "when it's dark." Big adventure.
So this year, we went extra early for what they call "Dawn Patrol." It's basically a light show with balloons. The sun isn't up yet, and all the balloons fire up their. . . fire (?) so they light up to music.
It all started well. We had a VIP parking pass (because my dad was singing) so for once it wasn't the Bataan Death March to the park. Then Elfie started talking about feeling sick. We attempted to remedy this with various styles of granola bars to no avail. Newt was about as enthusiastic as a teenager at the opera. And then the main balloon launch was cancelled because of wind.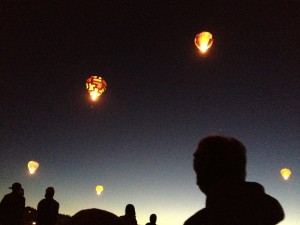 After attempting to salvage the day by making our way through the hoards of people to check out the Darth Vadar balloon, we left and went to breakfast at our favorite joint — Peg's Glorified Ham and Eggs — where Elfie made a beeline for the bathroom and tossed her granola bars.
Back at home, Tenzin and I crashed out for hours. Hours. I think I slept for four or five hours and then went back for more. The kids, on the other hand, stayed up. I convinced Newt to lie down after he almost had a nervous breakdown because Elfie stepped on his foot. But Elfie ran around the house like a chipmunk on speed, declaring that throwing up was great because it was like starting from scratch — it made you feel "fresh."
Aye.
Elfie finally fell asleep for a couple of hours in the afternoon. And Jasper, being pissed off because we left him at 4 a.m. and didn't take him for a walk all day, proceeded to steal various things from around the house and shred them.
Yep. And that be Sunday.