I had to open the front door all by myself today.
For the first time in almost ten years, the doorbell rang, and I found myself all alone, face-to-face with a strange man. No intimidating presence at my side. No low bark encouraging the guy to take a half-step back. No furry head pressed against my thigh for me to scratch. It was yet another reminder — one of about a hundred or so throughout the day — that my dog is gone. My Uno is dead.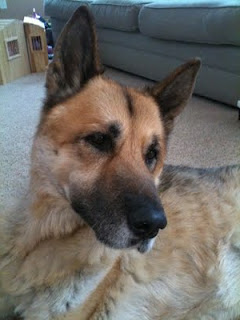 That's not his real name. It's his blogger pseudonym, created to protect him from identity thieves and internet pedophiles. I chose it because after my husband, Tenzin, and I got him, we realized we could be parents — he was the first thing the two of us collectively loved. We got Uno from the Humane Society when he was almost 3-years-old. We always said he chose us because he jumped up on the door of his cage and then whimpered as soon as we walked away.
There's no possible way for me to describe in a blog post how special he was. I know that many people adore their pets and think the world of them because love is individual and unique. But Uno was one in a million. I was trying to explain to some friends that we didn't think we'd be getting another dog because there are "dogs" and then there was "Uno." My friend, who's had many dogs, was able to clarify: "Uno was special. When I look in my dogs' eyes, I see. . . dogs. When you looked in Uno's eyes, you saw. . . human."
We had to put him down last Thursday. I've never seen my husband cry that hard. I don't think I've ever been that sad. My mother died almost two years ago and this feels as equally life-altering. And apparently I'm walking in my mom's footsteps — she once told me that in many ways, losing her dog was harder than losing her mother.
Of course, my mom's mother sort of drove her nuts. As all mothers do, I suppose. Which is why losing Uno is so hard. A human loss is riddled with paradoxes — there's the horrible sadness and pain. The missing that person's every goodness. The beautiful memories. But if you're truthful, the fact is, you didn't always get along. Life wasn't always rosy. And sometimes that person made you just plain crazy.
With Uno, we had none of that. He was pure, uncomplicated, warm-and-fuzzy, enthusiastic, unconditional love. I'd like to say I give that to my kids. Or my husband. But I don't. I'm just as complicated and riddled with paradoxes as everyone else.
Except when it came to my dog. As Tenzin and I knelt at his grave site, decorating it with rocks and determining that we were being very un-Buddhist-like in our complete inability to let him go, I realized that Uno was the one thing in this world that I have never taken for granted. I've always known he was a temporary guest. A special gift that we should cherish. I petted him every night before I went to bed. I thanked him for staying with us and not dying when my mom passed away. I mentally filed away how his head smelled.
And in keeping with that specialness, I feel like he hasn't just left us empty and sad and heartbroken. Something about his death has made Tenzin and me want to move our lives forward. It's like I've said before about the Star Wars theory — maybe that whole bit about Obi Wan Kenobi becoming more powerful when he died and then helping Luke out wasn't all complete crap. Maybe Uno gave us his energy.
Or maybe we just realize life is really, really short for everybody — not just for dogs.
Rest in peace, my best guy.
I love you.
Thank you for taking such good care of us.