Last night, Elfie and I went camping at Lake Tahoe with her 3rd grade class. It's an end-of-the-year tradition, and even though I wasn't that jazzed about the idea of going up without my husband, I did because she really wanted to take me, not Dad.
I don't mean to be a wimp, but honestly, I don't do that much stuff alone. Not anymore. I mean, when I was 23, I backpacked through a good portion of Europe by myself, so it's not like I've always been completely lame. But over the last couple of decades, I've just gotten used to having someone around.
And camping tends to be a little "freaky" for me. When I was 21, I was camping with my then-boyfriend and another couple, and we were attacked (seriously) by a group of drunk teenagers. My friend had a Corona bottle busted across his face and had to get stitches, and my boyfriend got beaten up. Good times. So I'm a little weirded out by drunk campers (of which there were many — oddly all middle-aged and obnoxious — next to us last night).
I was also worried about this whole deal because my health sort of stinks, and whenever I expend more energy than a 90-year-old holding up her hand to call, "Bingo," I pay for it for days. Let's not even talk about how lousy I felt after cleaning the camper last weekend. So for this camping trip, I knew that if I had to do everything by myself, exertion wasn't exactly an option.
Anyway, I went into this weekend like most things — knowing I'd just go balls to the wall (or ovaries to the. . . something that rhymes) because there'd be no point in getting up to the campsite and then standing around, hoping someone would help me unload stuff. Or asking for help. Or telling anyone my "issues." One of my major disadvantages is that I look super healthy. As I like to say, "I'm deceptively unfit." And I can usually bust out a good 48 hours of adrenaline and do just about anything. So pulling some helpless damsel-in-distress bit just confuses the hell out of everyone.
Plus I'm a little proud. Not to mention stubborn. But moving on.
Tenzin, my husband, helped us get ready, and when I was finally packed up, I realized it was a good thing he, our son, and the dog weren't coming with us because there wouldn't have been any space for them in the car. Camping perplexes me. I don't know how people "pack light." What was I supposed to get rid of? The tent? The mattress pads (no way)? Sure, I didn't need to bring wood, the stove, and cooking stuff — we could've eaten cereal and sandwiches. But that would've been a bummer. And yes, could've ditched the scooter, but Elfie rode her bike like crazy.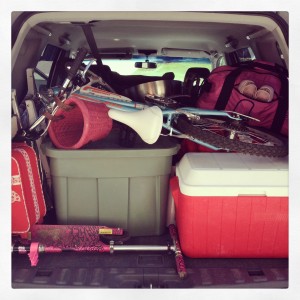 Turns out I was significantly better prepared than my peers — all dads. But to be fair, they didn't have a camping coordinator at home to organize their trip. They helped me put up my tent, and all of the girls ended up sleeping with me (which was fine except that I had to make three escorted trips to the bathroom in the middle of the night, and there were bears — and yes, apparently there was one roaming around the campsite when we were out at 5 a.m.).
We also got "lost" on a hike through the forrest when we veered the wrong way and ended up on the far end of the campground. What's funny and sad about this? I actually knew exactly where we were, but I didn't want to hurt anyone's feelings by saying, "Hey guys, we need to go this way, not that way." Camping with people you don't know gets so complicated…
And I cooked! I used a camp stove and made eggs, bacon, and coffee (because really, what civilized person can live without coffee). And the guys? Hell, I don't know what they ate. I offered them stuff, but they said they were fine.
Worst part about the weekend — apart from the fact that I truly will not be able to function for the next five days — was that my phone died and I didn't get any pictures of Elfie and me. All of our fun memories of talking in the car, playing Uno with her friends, lighting marshmallows on fire, playing with her teacher's baby on the beach, and stopping for cookies and cream ice cream (with gummy bears on top) will have to live in our heads.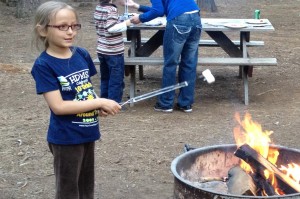 What can I say. When we rough it, we really rough it.