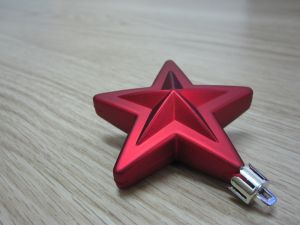 Like an innocent little schoolgirl, romping 'round the playground, I've been smacked on the back by a bigger, stronger, faster kid and declared "It" in a brutal game of tag.
Okay, that's not entirely accurate. But bullying is just so "in" right now.
My friend, Kelly DeBie over at DeBie Hive has tagged me in a post about wishes. The idea is that I'm supposed to make five wishes for the holiday season and tag five bloggers to participate (poor bastards).
What Kelly didn't know when she picked me was that I'm not exactly in the most bright and shiny mood today. On any other occasion, I'm sure this list would be chock full o'fun and peppered with disparaging remarks about John Boehner and Walmart. But, as we all know, timing is everything…
1) As is customary with every wish made available to me, I wish I were "better." I wish I were healthy and pain-free. I wish I knew what it felt like to not throw down a handful of pills every night. I wish I could drink a glass of red wine with dinner or a beer on a hot summer afternoon like a grown-up. I wish they could get my jaw back to normal after futzing with it so that my back teeth could touch and I could stop eating like a rabbit. I wish I could sleep.
Crap — I think I just used up all five wishes in that first go-around. Probably should've done the "wishing for wishes" thing.
2) I wish I could figure out how everyone else is "doing it." And by "it," I mean "everything." For the last few days, I've felt swamped. I feel like I've either been working with the kids on homework or shopping for Christmas (online and in-person) or cleaning something. But here's the problem: I cannot figure out where my time goes. Today, I was driving home in my disgustingly dirty, dog-hair-covered car and couldn't believe I didn't ever feel like I had enough hours in the day to get the car washed. Not to wash the car myself — to HAVE the car washed. Even my outsourcing isn't expedient enough. My list of appointments to make and paperworky-type crap to do is a mile long, and I can NEVER clear off my desk. And this is WITH someone cleaning my house every two weeks.
Honestly, I don't even like to talk about this because it makes me feel like such a complete asshole. Yes, it's true I'm not physically in the best condition, so I logically I know I need to cut myself some slack and just lay off it, but for the love of Pete, there are people out there dealing with so much more than I am. They're working full time and struggling for real! And training for marathons! And writing books! And blogging all the frickin' time!
I'm literally a spoiled, pain-in-the-ass housewife who doesn't have to clean her house and whose husband cooks. I'm a stay-at-home mom whose kids go to school all day. And I still can't get this all to work.
So I want to know, what am I missing? Am I just slow? Slow learner, slow writer, slow mover? I feel like I run my ass off when I'm in "go" mode. I don't feel like I'm screwing around. And yet, clearly something isn't working.
3) I wish I could cut myself some slack. See 2.
4) I wish, in many ways, that we could just fast forward through this holiday season. Seeing The Nutcracker, looking at cute men's shirts at the mall, trying to figure out which photos to put in our Christmas card — they're all just small, scraping, excruciating reminders that my cousin is gone.
5) I wish that all the children of the world would join hands and sing together in the spirit of harmony and peace…
Sorry. Couldn't leave everybody hanging with such a downer post. I mean, it is Christmas.
Be sure to check out DeBie Hive and her Five Wishes. And now, for the next victims…
No pressure — it is, after all, the holidays. And like anyone needs more crap to do.