So I'm a cereal fiend. Connoisseur. Addict. I practically live on the stuff. A lot of the medication I take kinda sorta makes me not want to eat, so without cereal, I would probably waste away into one of those scary people you see on the anorexia sites. Or these folks:
Anyway, I've been trying to buy food that's good for both me and the planet (oh, and the kids…), so I've been going more organic (yes, despite the recent hoo ha about how "Organics are a waste of your time," I tend to agree more with this lady and this guy — I suspect it'll come out that the researchers worked for Monsanto or something). I'm just not that jazzed when my food is brighter and lasts longer than most children's toys. But don't get me wrong — I'm not above knocking back a gooey plate of fake cheese nachos at a baseball game or a dozen Otter Pops on a hot summer day. Everybody has their weaknesses…
But back to the cereal. The girl-child has been bugging me to buy her some Fruit Loops. I've basically blown her off because we generally have enough junk to eat in the house, so the last thing we need is red dye number whatever cereal.
Then the other day at Whole Foods, I found "good for you" Fruit Loops — all natural "Tropico's" by Freedom Foods. "Free from gluten, wheat, nuts, soy, lactose, dairy, and egg." I was starting to wonder what the hell they actually used to make it…
So I got the cereal, brought it home, showed a very unimpressed child, and then, since the child was unimpressed, this morning I busted into them myself. Now I ask you — do these look anything like the picture on the front of the box?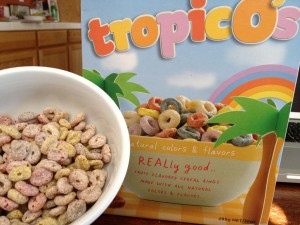 Funny, since the slogan from Freedom Foods is "Honest, Nutritious, and Free." But soldiering on, I poured my milk, dug in, and SWEET BABY JEBUS! Could anything taste that bad?! I did get the puppy to eat a couple, but considering he ate a piece of horse manure on our walk yesterday, I wouldn't list him as the most reliable food critic.
I ended up opening a box of 365 Frosted Wheat Squares, but they turned out to be the worst of any I've ever had in that genre. So I was left wondering: why can't the natural foods industry make food that doesn't suck? This happens to me all the time. I WANT to support them. I WANT to like their food. I WANT to get behind the smaller companies. But for the love of all that's tasty and doesn't make you gag, can't they please help a girl out here?
I suspect I'll be caving soon and buying the damn Fruit Loops. If not for the kid, then for me. Because if I don't get the natural taste of Tropico's out of my head soon, I may go loopy.
Got any good "natural food" trauma stories?