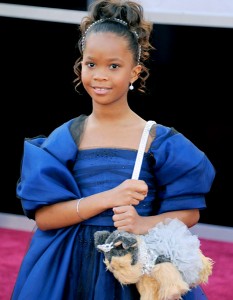 So when everybody started freaking out over the Onion calling nine-year-old Oscar nominee Quvenzhané Wallis the c-word, my thought process went something like this:
Wow, stay classy.

Maybe an intern was tweeting.
What idiot would let an intern tweet during the Oscars?
Somebody's getting the axe.
They'll probably end up on that Katie Couric show.
Or maybe even Oprah will do a special since she's gone so far off the deep end that she's hanging out with people like that Pastor Rick Warren guy who hates gay people.
Hey! This kind of reminds me of that post I wrote when my son was 8 (he's 10 now).
Third Grade Lessons on the C-Word
We've tried pretty hard not to cuss around the kids. In part because my now-8-year-old son, Newt, had a mimicking issue as a younger child. When he started saying, "Shit," we blamed it on my mom. When he pointed out the semi "Frucks" — with a very soft "r" — as we were driving down the road, I could always blame bad annunciation. Unfortunately, when he picked up, "Damn it," I pretty much had nowhere else to go (incidentally, it was pretty amusing when he adjusted it to, "Damgit" in an effort to make it socially acceptable).
So tonight, while I was quietly sitting on the couch, the boy suddenly popped up out of nowhere with this bit of news.
Newt: "I know the S-word. And the F-word. And the H-word."
Me: "Yeah?" Great.
Newt: "Yeah. Oh, and the C-word."
Me: Oh dear lord. "The C-word. Okaaaay."
Newt: "Yeah. Wanna hear them."
Me: "Uh, sure. Fire away."
Newt: "Okay. The S-word is shit."
Me: "Yeah."
Newt: "The F-word is. . . fitch."
Me: "Nope."
Newt: "No, no, wait. . . futch."
Me: "Not quite."
Newt: "I don't know. I can't remember that one."
Me: "Probably best. It's a bad one."
Newt: "Anyway, the H-word is hell. Which. . . I don't even understand why that's a bad word."
Me: "Well, yeah, I mean, theoretically it's a place, but if you use it in context, it becomes a problem."
Newt: "Right. And then the C-word. . . is crap."
Me: Oh thank you baby Jebus. "Ah. Yes."
Newt: "So today, I told Matthew to go to the H-word!" Laughs maniacally.
Me: "Uh huh. Very funny. Okay, just as long you know you're not supposed to actually use any of those. And they sound really tacky coming out of kids' mouths."
Newt: "No — yeah, I know."
Oh well. Damgit. I'm sure this is just the futchin' beginning.