One of the great and horrible realities of Christmas in the 21st century is that there's really no excuse for not being able to find the perfect gift. Because if it's not online, it probably means you're a genius and just came up with the next great thing in greatness. Either that or you're like me and just suck at searching.
But in the last 24 hours, I think I may have found the perfect gifts for even the most hard-to-buy-for person. Well, unless you loathe bananas.
Banana Gift #1: Banana Bunkers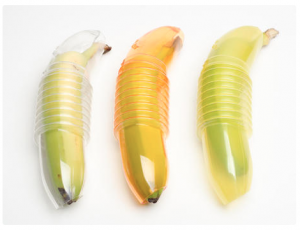 Who couldn't use these? More importantly, who wouldn't want one of these sitting on a kitchen counter? Or in a purse? I know when I saw it, the first thing I thought was, "Oh look, a banana holder  — so your fruit won't get bruised." Why? Because I'm a nice girl from a good family…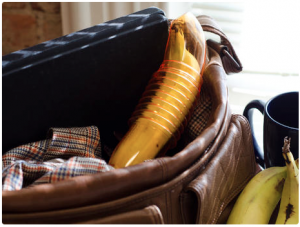 The unfortunate part about this "device" is that it would actually make my life better. But like there's any way I'd show up to the kids' school or play dates with one of these in tow ("Excuse me while I whip this out…").
Banana gift #2: The Hutzler 571 Banana Slicer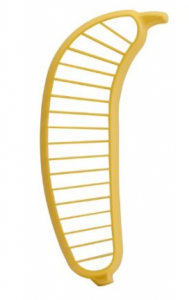 Let's face it. Slicing bananas is hard. Okay, actually it's soft. But it's sooooo difficult. Right? Right?
Well, all I know is that these people who wrote reviews on Amazon agree with me…
"My husband and I would argue constantly over who had to cut the day's banana slices. It's one of those chores NO ONE wants to do! You know, the old 'I spent the entire day rearing OUR children, maybe YOU can pitch in a little and cut these bananas?' and of course, 'You think I have the energy to slave over your damn bananas? I worked a 12 hour shift just to come home to THIS?!' These are the things that can destroy an entire relationship. It got to the point where our children could sense the tension. The minute I heard our 6-year-old girl in her bedroom, re-enacting our daily banana fight with her Barbie dolls, I knew we had to make a change. That's when I found the 571B Banana Slicer. Our marriage has never been healthier, AND we've even incorporated it into our lovemaking. THANKS 571B BANANA SLICER! " — Mrs Toledo (Greeley, CO)
And…
"When a burgler came to my house I was tempted to reach for the butcher knife in the kitchen, but instead I grabbed the 571B banana slicer. I told the burgler…'I'm gonna slice your nanner' and he ran in a terrible fright. Thank you 571B banana slicer for saving my home and possibly my life." — Angela Hamel
Of course, you can't make everybody happy…
"I tried the banana slicer and found it unacceptable. As shown in the picture, the slices is curved from left to right. All of my bananas are bent the other way." — J. Anderson
But then, there's a solution to most any problem…
"I can't believe anyone could be so inept as to think that they couldn't slice their bananas because they bent "the wrong way." All that person has to do is to buy the model 571C Banana Slicer that is for bananas that bend the other way. Although I prefer left-bending bananas, I got both the 571B and the 571C so that when shopping, I don't have to have the hassle of finding bananas with the correct polarity. I hope "Angle Was Wrong" sees the light and removes that harsh one-star rating for this indispensable product duo." — H. Madison
You can read more helpful reviews about the 571 Banana Slicer at Amazon.com if you're still having a hard time making up your mind (between it and the banana bunker, it's a tough decision). Special thanks to Claire Ursino, one of our favorite World's Worst Moms Facebook pals, for bringing this priceless product to our attention.
If nothing else, now you have two options for the toe-end section of your stocking.
Got a Worst Mom gift idea? Send it our way or visit us on Facebook.