When I read this Worst Moms Moment from Ginger at Spicey Mom, my heart dropped into my stomach. That's all I'm going to give you — read for yourselves…
********
I am sure that every parent, from day one, imagines the worst case scenario of losing their child. Sickness, SIDS, accidents, kidnapping, you name it, all of them rush through a new parent's head at 1 a.m. in the morning. That paralyzing moment when you realize you love this being so much and in an instant it can be taken away. That moment leaves you shaking and wondering if you are slowly going insane from lack of sleep.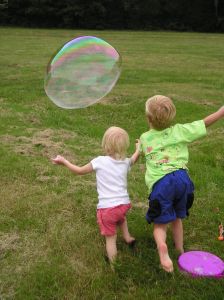 We can only protect them so much. I would love to keep my kids in bike helmets and knee pads, but that would only make me look overprotective and them look silly. Forget the fact that my oldest, Cookie, falls flat on her face about once a day (she's 6) and we have photographic evidence. (but can't include it here because of photographer and property rights etc.) We have to let them grow up. Now imagine the day your child disappears right in front of you. One moment they are running along at the Neighborhood Night out, playing and jumping in the big grassy common space with all the other kids, then they vanish around a corner. You go running and screaming after them, but for ten of the longest minutes of your life they are nowhere, poof gone.
I know, you are thinking, how scary for you Ginger. Well you see, it wasn't me in a panic, it was me who caused the panic. Cookie always chooses the most inconvenient times to need to use the restroom. And last night was one of those. "I have to poopy" announcement was made not 30 minutes after we had just used a friend's house to go pee. And she is the kind to wait and wait until, well, there is no more waiting. So as she is walking funny, holding her backside, we hurry along back to my friend's house to use the restroom. I have both my kids in tow, the neighbor's kid (who knows the security code), and suddenly I have two more neighborhood kids. One I kinda know, and I ask if she asked her mommy if she could come. She is 6 and she looks me in the eye and said, "Yes, I asked her and she said yes." Then there is another little girl whom I did not know. She says, "I need to potty, too". I ask, "Hunny, did you ask your mommy if you could come?" Little girl, "Yes, she said okay." The house wasn't far, and all the little girls use the restroom and we head back.
My mommy bells were ringing when I brought that 5th girl along. I didn't know her or her mommy…but I thought maybe she knew the other little girl's mom and thought it was okay. Well it wasn't. I should have sent her back, but Cookie was in an emergency situation. As we turn the corner back to the open space I could tell all was not right. A man said, "Is that Ellen (name changed)? Her mom is in a panic." I said, "Oh NOOOO, she followed us to the restroom." I tell her to run ahead to let her mommy know she is okay. And you could tell the mom had had the worst 10 minute scare of her life. She was hysterically crying and hugging that little girl. I could not apologize enough. I was the mom who caused panic. I caused another mom to feel that abject horror of loosing a child. The guilt was pretty thick last night.
The only silver lining is that it did allow for a good conversation with my girls about what happened and what that little girl did that was wrong. 1) She went with a strange adult that she did not know. 2) She didn't tell her mommy where she was going. 3) She lied about it.
I swear. I am not a kidnapper.
*********
Read more from Spicey Mom on World's Worst Moms here.