Okay, I'm just gonna come out and say it. . .
I'm totally pissed off that I didn't go to BlogHer '11.
To be fair, the reason I did not go to BlogHer '11 was because a bunch of my extended family members were here from all over the country. And I love my family. I wouldn't miss seeing them for anything. When I was a kid, I remember my dad telling me how important all these people were because your family never stops being your family. I, of course, thought he was nuts. Damn, wise, old guys (incidentally, he was probably forty at the time, younger than I am). Anyway, it would take a lot for me to give up time with my precocious 5-year-old niece who looks like a tiny version of me. Or my 9-year-old nephew who's obsessed with yo-yos and has more energy than the UPS guy on Mad TV. Or my uncle who sounds like Mike Ditka and spoils all the kids with a mega-trip to Target every year. Or my 23-year-old cousin who is busting cancer's ass and facing her life with so much more maturity and grace than I ever could've dreamed of having at her age.
So, clearly not a lost week. But I'm still annoyed. And bummed. And, yes, jealous. When I read all the tweets and posts about the incredible people and fantastic lectures and never-ending swag (yes, I'm so clueless that I was previously unaware of the swag), it makes me feel like Cinderella. Only the version of Cinderella where she just sort of goes up to her room after cleaning the mansion, doesn't get visited by any Fairy Godmother, and hangs out until everyone else comes home after the ball.
Plus this was a tough conference to miss. The venue was relatively close to home (New York next year for BlogHer '12 will be a major trek) and I was chosen as one of BlogHer's Voices of the Year. So I didn't get my possibly once-in-a-lifetime chance to hang out with the other Voices. Not to mention hear my friend The Empress read her post in front of everybody. Bleh.
AND — just to go ahead and make my whine-fest complete, since I'm on a roll and might as well go for it — now I'm feeling five steps back from everyone. Like all the stuff I don't understand and can't seem to figure out is still un-understandable and un-figure-out-ible. But now everybody else has all the answers. And while I know that sounds kind of crazy, I was just dying to sit down with smart people for about 48 hours and hash through all the minutia that seems to take me (and only me?) hours and hours to figure out.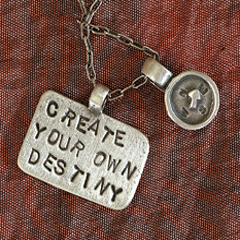 Amy Peters' Studio
However. . . I am attempting to look on the bright side of all of this (and here she goes. . .). Turns out staying home from BlogHer '11 actually resulted in my own mini blogging conference. My visit with the family yielded a goldmine of information because my cousins are Internet brainiacs. Jim knows all about SEO, advertising, and programming (he has this cool music app called iSample). And Amy owns Amy Peters' Studio , but she does a lot of business on-line, and she blogs (awesome jewelry — she was the original). So I got to pick their brains like mad and actually experienced some information overload. Lord only knows what would've happened to my head if I'd have gone to BlogHer — it probably would've exploded.
So there you have it — whine into roses. Clouds into rainbows. Just your typical day at Party Sunny, Chance of Rain. Around here, the pain-in-the-assness never stops.
It just changes topics.