Okay, confession time. And this is kind of a weird one, so if you're one of my guy friends in particular, you may just want to stop reading here.
Seriously.
So Elfie, my 6-year-old daughter, started camp this week, and she's kind of freaking out. The place has one bathroom where all the girls change clothes and do their "business" at the same time (apparently because everyone's on some sort of intense summertime schedule that doesn't allow for individual bathroom breaks). This all happens in one over-sized, household bathroom. It's not an institutional-type, multi-stall situation. There's one toilet, right there in the open. Kind of like. . . prison.
We've attempted to raise the kids to be comfortable with their bodies. We've always called our home "The Naked House" because we aren't what you'd call door-closing robe-grabbers. The idea was to make them understand that the human body is just that — a body. Everyone is naked under their clothes. And apparently that. . . didn't work. Elfie was extremely uncomfortable about getting undressed in front of a bunch of kids she'd never met before. The thing is, as much as I want her to feel secure about herself, I can't say this doesn't make me sort of happy. There's just such a fine line between modesty and, well, let me get to that.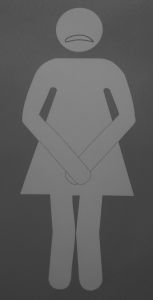 So last night, Elfie and I end up talking about the fact that she doesn't like (in fact she pretty much actively avoids) going to the bathroom when anyone else is around. She's had accidents at school because she doesn't want anyone else to be in the bathroom to "hear" her. And all I can say to her is, "Have you ever heard that saying about the sins of the father. . . never mind, probably not."
Anyway, I go on to tell her that I completely understand. That there's no way I could go to the bathroom in a room full of other women. Sure, I could pee with a bunch of my friends, but take a crap with a bunch of strangers? Hell no. And then I tell her that it would be a really, really good idea to try to get over the whole "Not able to go in a stall" thing. Because otherwise, life will be pretty rough.
But what I needed to tell her was this: the reason she's bathroom crazy is because her mother is completely nutso. See, my mom was very discrete. Back then you called it "ladylike." She certainly didn't go around farting like my dad did. So if I put on my junior psychologist's cap and take a wild stab at this, I'm gonna say I did some gender association and came to this basic conclusion: good girls don't crap.
Of course, junior high and high school just reinforced this idea. It's such a detail-oriented, under-the-microscope time of life (that sure was fun and relaxing). I remember accidentally farting in front of a guy I liked — I doubt he even heard it because we were outside and it was so insignificant — but I just about wanted to jump off the second story balcony that we were on at the time. Ah memories. . .
But I never really thought about how much effort I put into hiding the fact that I pooped like everyone else until my grad-school boyfriend said, "You never go to the bathroom." To which I said incredulously, "What? Of course I do." He started to say something but ended up dropping the subject. I knew exactly where he was going. We spent the night together all the time. He practically lived with me for long stretches. And yet. . .
But the fact was, the guy I was with before him — who I'd even considered marrying — hadn't gotten admission to that movie. I sure as hell wasn't going to let my summer fling sneak in the side door.
And it was a crazy movie. I didn't like the idea of anyone hearing or smelling anything I'd done. I stressed over having roommates and thought about when they were going to be home. I took showers that I didn't really need to take so that I could run the water. I even just waited and used public restrooms because in there I was "anonymous."
This was all complicated by the fact that I have IBS (irritable bowel syndrome). Yeah. So add on self-conscious about unpredictable diarrhea. Actually, this could explain a lot (like how I became an expert at the mercy flush, for instance). Because, really, what's more attractive when you're dating. . .
Anyway, this went on for years, and then one day, I met this woman. She was cute and cool and funny. And when we went into the bathroom at work one day, she said, "Oh, I have to poop." And then she talked to me from inside the stall.
Now you'd think that after 24 years of female friends, relatives, and roommates this kind of thing would've happened, but it hadn't. This was groundbreaking. This was a woman who was so secure with herself that she could poop in your presence. This was. . . awesome.
I started dating my now-husband that same year. He's the first guy I ever felt comfortable farting or pooping in front of. I'm not going to lie and say that I've become some perfectly secure person who doesn't still think about all of this crap (okay, ha ha). I think some neuroses never die, they just wait quietly in the corner. I try to think of it like this — after you've pooped on a delivery table, can it get worse? But I'm an unrelenting skeptic — there has to be some social indignity still out there to suffer.
So the long (very long) and short of it is, I've screwed up the girl. I've always thought that we joked about this sort of stuff in front of the kids enough to make them feel comfortable, but I guess actions are speaking louder than words.
It would be so convenient to be able to cover up our insecurities with a blanket and forget they're there. But the children keep finding flashlights and searching under and through everything like little archaeologists. They hunt you down relentlessly. Nowhere to run. Nowhere to hide.
And we all know locking yourself in the bathroom doesn't do a damn bit of good.


*Epilogue
I spoke with a counselor at Elfie's camp, and she assured me that they do NOT encourage the kids to relieve themselves while in a group. They're given time before and after changing to use the bathroom privately. And they can lock the door when it isn't changing time. There's also a second bathroom up by the pool (which, after grilling Elfie, I've realized she doesn't like to use because it starts to get kind of gross as the day goes along — probably due to multiple wet butts, dropped/wet toilet paper, etc.).
The counselor said she'd make all of this clear to the kids, but I got a slight bit of an eye roll. This isn't the first time we've dealt with the clothes changing/bathroom issue — we actually got kicked out two years ago because Elfie couldn't get dressed and pee quickly enough. So I'm thinking a) my kid really is a problem, b) these people have kind of pegged her and are consciously or unconsciously giving her a rough time, or c) because they see her as a problem, she's gotten stressed out and has actually become a problem. To be continued. . .