Once upon a time, I was a really good housekeeper. You could pretty much eat off of my floors. I did things like clean the refrigerator even if something hadn't spilled in it. I'd wonder to myself how people lived with dirty baseboards.
Then I had kids.
That was about ten years ago. Coincidentally, also around ten years ago, I developed "atypical facial pain" — it's this nerve pain in your nose, cheek, and ear that sort of burns all the time and makes you feel like you're inhaling Vicks VapoRub. The other little side affect of this nasty little disorder is that certain harsh or flowery scents actually hurt. Sit me next to some church lady wearing too much perfume or in a nice "clean" room scrubbed with strong chemicals or bleach and I'm not pleased.
For that reason — and because I don't want to kill polar bears every time I clean a counter — I started going green. One of my latest faves is Method All-Purpose Cleaner in pink grapefruit. I'm a big citrus fan. Flowers are trying to kill me. Oranges and lemons just want to make my house smell pretty.
But like I said, scents really, really bother me, so I have to be careful. I can't believe I'm using this word (it makes me feel like Kathy Lee Gifford or something), but the pink grapefruit spray actually smells "yummy." And it works well. And you don't feel like you're going to die if you touch it.
Last night, I even had the girl using it. I've been sort of feeling like hell, so I try to get the kids to do more around the house.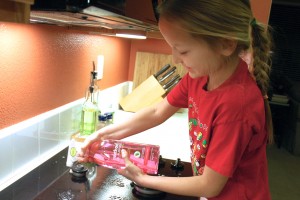 She was just supposed to clean the stove, but once she gets going, she's weird like her mother and won't stop.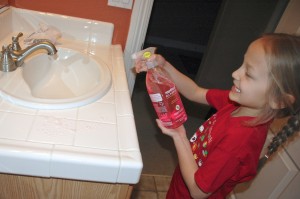 And even her brother thought it smelled divine…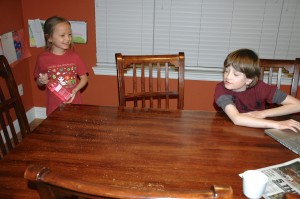 Anyway, they have a bunch of other scents that you can check out here, including more citrus and even some evil flowers (not that there's anything wrong with that…). Let me know what your favorite flavor would be. Especially if, say, I gave you an online coupon for a whole dollar off! I know, not huge. But hey, every little bit counts.
You can get the discount here when you enter APCBLOG at checkout (the stuff I saw on the site seems pretty discounted, and it looks like they ship for free if you spend 25 bucks).
And who knows — maybe you'll get lucky and your completely insane child will like it so much that she'll clean your whole house, too.
*The lovely people at Method sponsored this post, but I have their stuff all over my house already, so I sort of consider this karmic payback. And by the way, 10% of the meeellions of dollars I'm earning are going to Kiva, an international program that combats poverty by making small loans to individuals.