We had the first day of school this week, and Elfie was a little freaked out. After three years, she started a new class with a new teacher (they're clumped 1st through 3rd and 4th through 6th), so it was a big change. Anyway, I decided to write something on a Post-It and stick it in her lunch, just in case she was having a tough day.
I didn't want to write, "Mommy loves you," or some other sappy bit that might make her cry if she was upset or make her embarrassed if she was with "deriding colleagues," so I decided to stick in a joke.
What is a witch's favorite part of school?
Spelling
Of course I couldn't just leave her brother hanging, so I stuck this in his.
What did the math book say to the other math book?
"You sure have a lot of problems."
My mom used to do this kind of thing. She'd put scratch-n-sniff stickers on our brown bags, and every day, the kids would all want to guess which smell it was. Made for good conversation starters. My mom was nothing if not a good conversation starter.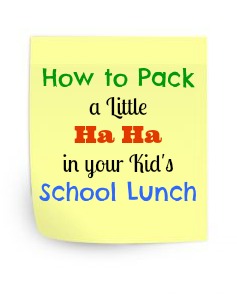 Anyway, the kids liked them and of course asked if I could do it again. This would be where you whisper to your neighbor, "She never really could get that whole 'no good deed goes unpunished' concept. Slow learner…" So now, every night, on top of lunches, I was looking up jokes for kids.
Initially it was fun. Newt took the math book joke and turned it into a comic for the school newspaper. And on Tuesday, we had a lively debate about whether the second day's jokes were as good the first's (the kids are so critical — don't know where they get that from…).
But despite the drop in quality, they want the program to continue, so once again, I was searching for something that wouldn't bore them to death by being too adult and still wouldn't completely insult their intelligence. Sadly, my favorite standby, "Why did the monkey fall out of the tree? Because it was dead," is already well known around here.
Anyway, I've listed the jokes we ran through this week. I started leaning toward riddles ("I mean, come on kids, you loved that whole bit with Golem and Bilbo in The Hobbit, right?!"), but they were met with more of a "meh" than I expected. And that's when things went badly…
See, you really shouldn't "meh" me. You shouldn't "meh" me when I'm going out of my way to do something nice and special that takes extra time, and especially when it involves lunch packing which I hate anyway because I have to either do it myself (which I don't like) or be all Montessori and get you kids to do it yourselves (which I don't like because it takes twice as long). So, yeah, don't "meh" me.
Long and short? Program is on suspension. But it sort of made me feel like a really good mom while it lasted.
Why do seagulls fly over the sea?
Because if they flew over the bay, they'd be bagels.
What did the chicken say when he got to the other side of the road?
Nothing, chickens don't talk.
What did one flag say to the other flag.
Nothing, it just waved.
How does a lion introduce himself to new animals?
Pleased to eat you.
Why wasn't the teddy bear hungry?
Because it was already stuffed.
What stays in a corner and travels all over the world?
A stamp.
What do you call a man with no body and just a nose?
Nobody knows.
What has one head, one foot, and four legs?
A bed.
What's your favorite kid-friendly joke? It has to do with a dead monkey, doesn't it…
Resources: Jokes4us.com, Ducksters.com, Grandparents.com