Thanks to my lack of organizational skills, we left my daughter Elfie's 9th birthday party planning until the very last minute. Not a big deal if my husband and I weren't insane. Unfortunately, we've set a precedent of throwing wildly fantastical theme parties for her birthday, complete with treasure hunts that involve multiple adult actors and a zillion props. So cake and ice cream sort of don't cut it.
We only had six kids to deal with for a Saturday sleepover, but on Thursday evening, I spun into a bit of a panicked, "Holy hell — I really have to start writing this treasure hunt or else I'm really screwed" moment. That's when my husband, Tenzin, mentioned Harry Potter, and I think the collective light bulb over our heads pretty much exploded.
By the end of our brainstorming, we'd created the ultimate Hogwarts experience (I mean, as far as you can without magic or Disney imagineers). Of course,  we also almost split my head open when I fell off a broom. But I'll get to that…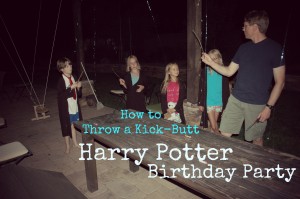 Anyway, this is how we prepped. I'll do a "Part Two" about the actual party execution in the next post (told you it was big).
Hogwarts Acceptance Letters
Can't go to Hogwarts without getting a letter first. Michael's had some brown cards and envelopes — 4 inch x 5.5 inch (or 8 x 5.5 when you opened the card stock). Perfect for the acceptance letter and supply list. I also used this to print a class schedule and potion assignment (the paper was scored down the middle, so I put them both on one page and cut it in half — it'll all make sense when you see the download).
Each kid had their letter addressed to him/her ("Dear Mr. or Miss ___ "). The letter and supply list went into an envelope printed with their name and "The Closet." Then I went a little nuts and hot glue gunned the back of each envelope with a little metal "embellishment" (apparently that's what they call these things — I got them in the scrapbooking section). It made the envelope look like it was sealed.
Honestly, my obsessive-compulsiveness is what's going to save you time when it comes to all of this. The fonts? That's what drove me crazy. And I still wasn't completely happy.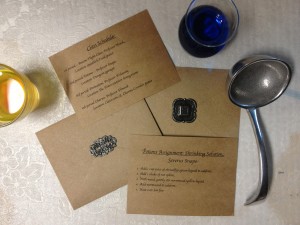 Here's a printable, downloadable version with the letter, supply list, class schedule, and potion assignment: Hogwarts Acceptance Letter:schedule
Train Tickets
Can't get on the Hogwarts Express without a train ticket.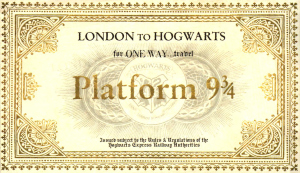 Printable, downloadable Hogwarts Train Tickets

Diagon Alley
We did three shops: Ollivander's (wands), Madam Malkin's (robes), and Flourish and Blotts (books). The upstairs bedrooms became Diagon Alley.
Printable, downloadable Diagon Alley Signs
The boy's room was the bookstore — we just used random books to fulfill the supply list.
The girl's room was the wand shop. At first, we thought we'd just use chopsticks for wands. Then Tenzin got the wild idea to wittle wands out of tree branches and put a coat of dark stain on them. He's crazy, but they came out really cool and incredibly didn't take him all that much time.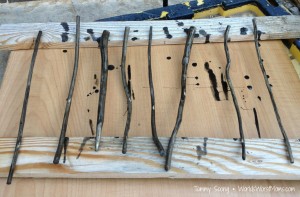 The guest room was the robe shop. This is where we spent some cash. I found thin, black robes for $20 in the women's department at Target. SO lucky. Cleaned them out. I think the checkout woman thought I was out of my mind (and she was right).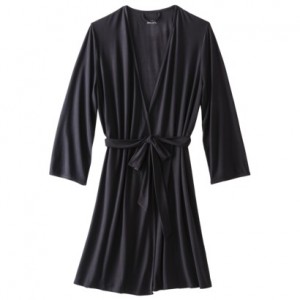 Hogwarts — the Sorting Hat
This is easy if you have an old witch's hat lying around from Halloween. If you don't, you're gonna have to improvise.
Broom Flying Class
This is where Tenzin went a little insane. I was thinking, "Maybe we could have the kids go look for something on their bikes and pretend they're on brooms. Or set up a Quiddich game without flying?" But no. That was "No fun."
So he fastened a piece of wood to an old broomstick and screwed great big eyebolts into each end. He also made a little "seat." Then he screwed four eyebolts into our pergola and tied rope to the front two and back two so that each end was secured with a "V."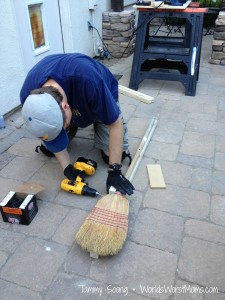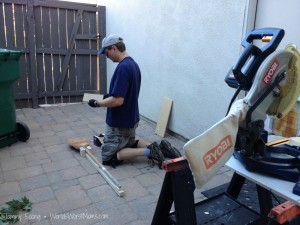 His grand plan was to have the thing about, oh, four feet off the ground. Because how else can you fly on a broom (dur). So we got me up there to make sure it would work. Turned out it was very tippy, but I stayed on. Still, it was all very sketchy, and he was lamenting the lack of foot rests…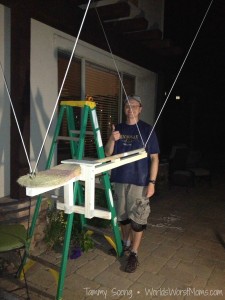 So next thing I know, he's adding foot rests, and we're going for trial number two. Only this time, when I put my feet back, I completely flip over. Like I'm on a bloody trapeze. Fortunately, I hang on, and he holds onto me enough that I don't actually plunge to the ground and whack my head.
I ended up with a banged up knuckle and huge bruise on my thigh. After the party, when we told the kids, Elfie said, "Um, exactly what would you have told the people at the hospital if you would've cracked your skull open? Hi, my E.R. doctor husband built this flying broom for our kid's party and decided it was a good idea to put it four feet above the ground, and when I was trying it out, I fell off. But I swear, we're really smart." Little bugger.
After the falling incident, I said, "Maybe we should just lower it so the kids can keep their feet on the ground." And Tenzin said, "Good idea. What idiot came up with the idea to put it up that high…"
If anyone does end up trying something like this, Tenzin says in hindsight, he'd have put four eyebolts on the broom — one on either side of the handle at each end. What can I say. It was late. We were rushed…
Potions Class
For this, we went with the old standby — vinegar and baking soda. Add them together and you get a quick, bubbling stew. The potions recipe is in the Hogwarts Acceptance Letter:schedule. Other necessary items:
Something to look like a caldron (we had two kids per caldron and used everything from a fondu pot to a silver bowl)
Little glass vases (containers) to hold ingredients — two per station
Something to shake into the potion (we used colored sprinkles)
Vinegar colored with yellow food coloring
Water and baking soda colored with blue food coloring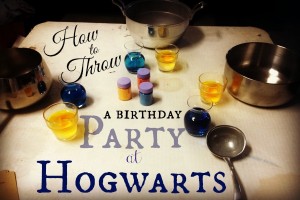 The great thing about this recipe is that even if the kids know the old vinegar/baking soda trick, they're thrown off because the baking soda is mixed in with water. It all turns green and looks very bubble, bubble, toil and trouble.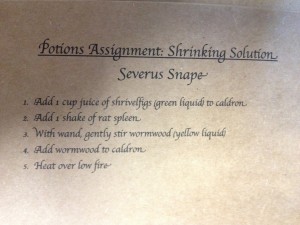 Divination Class
If you have Harry Potter aficionados, they'll call you out on the fact that first year students don't attend Divination. Tell them they have to roll with it. Anyway, this is another old science standby, but due to a mistake, it worked out better than expected. Supplies:
Glass bowl
Milk (the more fat the better — half and half is good)
Three colors of food coloring
Dish soap
Flashlight (if you're doing it somewhere dark)
Normally, you put the milk in the bowl, drop in a few spots of food coloring, and then add the dish soap. As soon as the dish soap hits the milk, it displaces the fat and causes the color to swirl. Unfortunately, the effect is somewhat short-lived. So here was the serendipitous mistake: I left the dish soap on a little plate, and it coagulated into a thick gel. When I finally got a little chunk into the milk, it just kept going and going and made the colors mix like crazy.
Charms Class
This part could be difficult if you don't live in a place where fireworks are accessible. We were lucky to have some "flowers" left over from 4th of July, and Tenzin and Elfie's increasingly crazy "what ELSE can we do with these things" antics led to the tying of them to fishing line, lighting them, and then hoisting them up so they could spin in the air.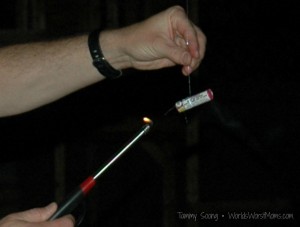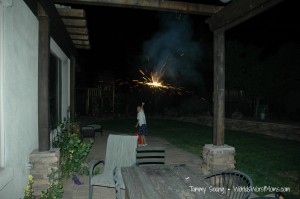 For the party, the idea was that every kid would be able to learn some spells to make the fireworks explode and fly. So Tenzin tied the firecrackers to fishing line, put paper clips on the other ends, and then strung the fishing line around the rafters of our pergola so we could pull them up.
Final Celebration in the Great Hall
Supplies: whatever dessert the birthday kid wants.
********
So that's the prep work. Next post will be all about how to run the kids through the party. All things considered, this was pretty low cost. The robes obviously put us back about $120, but the only other expenses were the stationary, pizza, drinks, and dessert. All the other stuff (broom, lumber, eye hooks, rope, fishing line, tree branches, stain, vinegar, baking soda, food coloring, milk, dish soap, "caldrons," glasses, witch hat, firecrackers — did I miss anything?) was already in the house.
And the kids were all psyched about their robes and wands. If you think about the amount of cash you've dropped on crap to stick in plastic bags that get thrown away as soon as they get home, this seems like a bargain.