I'm been wanting to show this to you guys, but after the events in Newtown, well, I don't think anyone's life has stayed on schedule.
So this is basically a Where's Waldo book that you can personalize. You send in a photo, and then your child gets to find himself/herself among other children's faces on every page.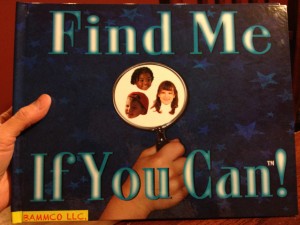 I sent in a picture of my 5-year-old nephew so I could see an example. I didn't think my 8 or 10-year-old would be that interested in it, and I was right. But they did think it was a cute idea that would be fun for littler kids.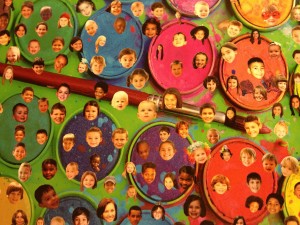 The book is spiral bound so it can lay flat for easy searching. The backgrounds are fun — buttons, candy, outer space. And some of faces have funny stuff happening, like crazy wigs and sunglasses.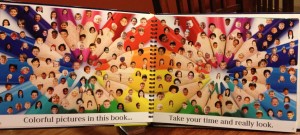 The text isn't anything Shakespearean, but it's simple and straightforward. Not something I'd want to read every night, but keep in mind that I have major OCD rhythmic rhyming issues, so I'm kind of weird about these things. The child's name also appears on the last page.
And I think the company is a good one. My nephew's picture came out kind of dark, and I got an immediate response to my email about it. They offered to send another book and explained that they weren't sure what happened because the picture looked light enough.
So here's the cool part: one of you guys is going to get one! We'll keep this easy peasy. No Facebook signing upping (although you can feel free to do that) or twittering (although you can feel free to join me there, too).
Just leave a comment on this post telling us something special about your kid, and you'll be entered to get a book. We'll keep it open until the last second of 2012. 
Incidentally, the company can put more than one kid in a book. Even a whole soccer team!
I'm sorry to report that there's not enough time to order one for Christmas. But you can get one at Bammco.net. The books are a bit pricey — $29.99 plus $4.95 plus shipping. And it increases if you add more kids. But it is a personalized item, so. . . you get what you pay for folks.
This is the place where I say I got a free book from Bammco for writing this review, even though they didn't actually demand that I write a review for the book (like I said, they're nice people). And it turns out this isn't even going to end up helping me with Christmas presents because I'd already gotten my nephew this obnoxious Sponge Bob pillow. So there you go.